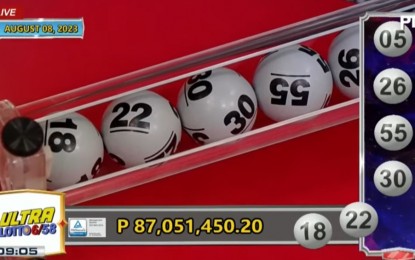 MANILA – A lone bettor from Cebu became an instant millionaire after hitting the PHP87-million jackpot of the Ultra Lotto 6/58 draw on Tuesday night.
In an advisory on Wednesday, the Philippine Charity Sweepstakes Office (PCSO) said the lucky bettor guessed the winning combination, 18-22-30-55-26-05, and will take the prize money of PHP87,051,450.20.
The winning ticket was bought in Mandaue City, Cebu.
The PCSO reiterated that all winners have a year from the date of the draw to claim the prize. All jackpot prizes must be claimed at the PCSO main office in Shaw Boulevard, Mandaluyong City.
Winners must write their names and signature on the back of the winning tickets and present two government-issued identification cards or documents.
Lotto winnings of more than PHP10,000 are subject to 20 percent tax under the Tax Reform for Acceleration and Inclusion law.
Meanwhile, 16 other bettors won PHP120,000 each for guessing five out of the six winning digits, while 1,299 will get PHP2,000 each for four correct digits, and 23,491 will settle for PHP100 each for three correct digits.
The Ultra Lotto 6/58 is drawn every Tuesday, Friday, and Sunday.
The PCSO is urging the public to patronize its games to generate more funds for health programs, medical assistance and services, and charities.
Meanwhile, the PCSO reported that it has released PHP37.2 million in medical assistance to a total of 4,765 eligible beneficiaries nationwide from July 31 to Aug. 4.
Citing its latest data, the state lottery agency said in a statement the funds were released to beneficiaries through its Medical Access Program (MAP).
The beneficiaries include 552 indigents from the National Capital Region who received PHP6.6 million worth of assistance; 1,182 from Northern and Central Luzon who were given PHP8 million; and 1,404 from the Southern Tagalog and Bicol Region who received PHP6.9 million.
In the Visayas, 1,565 individuals were provided with PHP9.7 million in medical aid while 1,005 in Mindanao received PHP5.8 million.
The MAP, formerly known as the Individual Medical Assistance Program, augments medical assistance for indigent Filipinos, particularly for hospital confinement, chemotherapy, dialysis and post-transplant medicines.
PCSO general manager Melquiades Robles urged the public to support the agency's gaming products to raise additional revenue for health initiatives, medical services, and other national charities.
Through its mandatory contributions, the PCSO not only helps individuals in need of medical assistance but also provides funds to government institutions. (PNA)