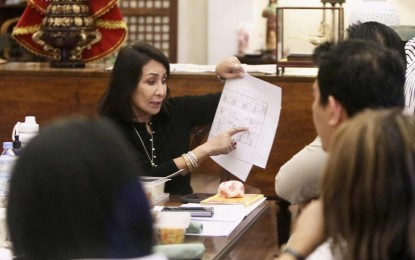 CEBU CITY – The company responsible for delivering 3,500 wet metric tons of dolomite to Manila Bay in 2020 has lost its mining production sharing agreement (MPSA).
Gov. Gwendolyn Garcia announced Wednesday that she ordered the revocation of the MPSA of Dolomite Mining Corp. (DMC), a mining firm producing dolomite sand in Alcoy, some 101 kilometers south of this capital city.
The governor, along with the provincial legal officer and provincial treasurer, met the executives and a lawyer of DMC, pointing out the company's alleged act of disregarding the ordinance stopping the operations by continuing to supply raw materials to the Philippine Mining Service Corporation (PMSC).
DMC, a Filipino-Japanese-owned firm and mining leaseholder in Alcoy, has an agreement with the provincial government to mine dolomite for 25 years or until 2030 in Cebu, known to be rich in mineable deposits of dolomite.
In October 2020, Garcia issued an order stopping PMSC's operation in Barangay Pugalo following the firm's failure to pay taxes to the provincial government based on an ordinance.
Although DMC was able to settle its taxes covering 15 years, the governor questioned its continued supply to PMSC.
Garcia cited PMSC's defiance to pay its dues while mining local resources, saying that such has been disadvantageous to Cebu province.
In February this year, the governor issued an order reiterating its prior call for PMSC to stop processing, selling and transporting dolomite, associated mineral deposits and other quarry resources, citing the company's unpaid tax and environmental violations.
The statement from the capitol said that based on data from the Mines and Geosciences Bureau, PMSC defied the order and bought 2.5 metric tons of mineral resources extracted by DMC from September 2020 to December 2022.
DMC and PMSC have yet to issue their respective statements regarding the governor's decision. (PNA)