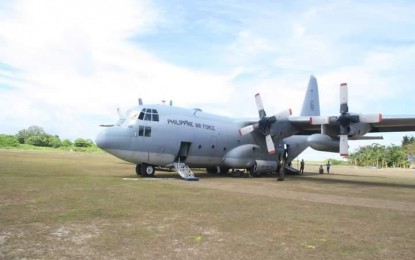 MANILA – Philippine Air Force (PAF) Lockheed C-130 "Hercules" transport aircraft crew members together with its United States Air Force (USAF) counterparts and participants from 12 other air forces will participate in exercises essential to airborne humanitarian assistance and disaster relief (HADR) from Aug. 14 to 18.
In a statement Wednesday night, PAF spokesperson Col. Ma. Consuelo Castillo said participants to the Pacific Airlift Rally 2023 (PAR-23) would be provided with airborne training exercises, airlift operations, logistical planning table-top exercises and subject matter expert exchanges (SMEE) that will focus on HADR operations.
"Participants will practice mission planning, cargo handling and loading, multinational air-land and airdrop operations, as well as medical transport operations among others," she added.
Aside from the PAF and the USAF, other participating nations in PAR-23 include Japan, Indonesia, Malaysia, Bangladesh, Brunei, Canada, Maldives, Mongolia, Nepal, Singapore, Sri Lanka and Timor-Leste.
These training activities will be held in the Philippines with different activities happening at Clark Air Base, Mabalacat, Pampanga; Villamor Air Base, Pasay City; and Brig. Gen. Benito N. Ebuen Air Base, Lapu-Lapu City, Cebu.
Castillo said PAF C-130s from the 220th Airlift Wing at Brig. Gen. Benito N. Ebuen Air Base, Lapu-Lapu City, Cebu, will take part in the exercise together with C-130s from the USAF, Japan Air Self-Defense Force, Royal Malaysian Air Force and Indonesian Air Force for the flight training portion of the PAR-23 Field Training Exercise (FTX).
The PAF, together with multinational military operations and logistics planners, will also conduct the PAR-23 Multinational Table-Top Exercise (TTX) that will center on HADR airlift operations and logistical planning for aircraft deployment staging, cargo and movement mission planning and multinational airlift capability analysis for airlift mission schedule prioritization.
Castillo said these are all vital components in airlift mission planning essential not only for local operations but also during multinational HADR operations.
"Various SMEEs will also take place as part of PAR-23. These include SMEEs on C-130 aircraft maintenance, austere and expeditionary medicine, advance patient movement and evacuation, air force defense and force protection, building resiliency through military bands and chaplain service-related topics," Castillo said. (PNA)