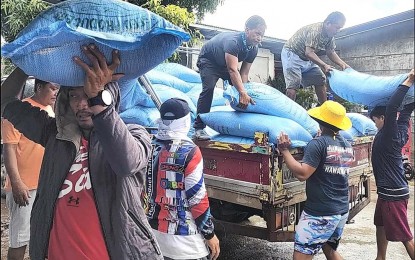 BAGUIO CITY – The Department of Agriculture in the Cordillera Administrative Region (DA-CAR) on Thursday said it is ready to distribute seeds for planting to replace those damaged by Super Typhoon Egay, as part of its corn, rice and high-value crop programs.
In a statement, Aida Pagtan of the Regional Agriculture and Fisheries Information Service (RAFIS) said an initial 3,266 bags of corn seeds have been reserved for the farmers in Bucay and Pidigan, Abra; Calanasan, Flora, Kabugao, Luna, Pudtol, and Sta. Marcela in Apayao; Aguinaldo, Lagawe and Mayoyao in Ifugao; Tabuk City and Pinukpuk in Kalinga; and Natonin in Mountain Province.
Pagtan said the seeds have yet to be distributed, with farms still being repaired and revived.
"They do not have farms to plant on because they were washed out by the flood, landslide and rainwater so they need to revive them," she said.
She described the revival of farm lots having farm beds and putting of barriers and rocks.
Some 580 bags of three kilos each of hybrid rice seeds was also delivered to Abra last Aug. 3.
At least 300 packets of assorted vegetable seeds and lowland vegetable seeds are now at the Agricultural Project Coordination Office in Abra.
Pagtan said the vegetable seeds are only buffer stocks
"They are doing the rehabilitation plan and will submit it for funding," she said.
Earlier, Pagtan said the DA central office ordered the regional offices to fast-track the assessment of damage to agriculture so a rehabilitation plan could already start.
Pagtan said based onl atest data, Cordillera recorded damage amounting to PHP1,125,748,219, affecting 43,906 farmers and fisherfolk in the region.
Damage to rice fields was at PHP179 million; corn at PHP460.3 million; high-value crops at PHP453.4 million; livestock at PHP21.8 million, and agriculture infrastructure at PHP11.1 million.
At least 1,862,989 metric tons of agricultural products were destroyed. (PNA)