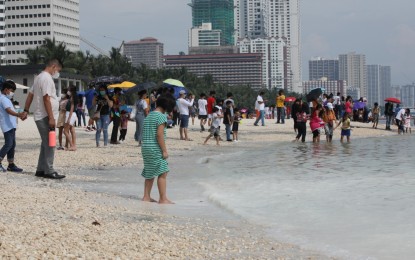 MANILA – Department of Environment and Natural Resources (DENR) Secretary Maria Antonio Yulo-Loyzaga announced on Thursday that 22 reclamation projects in Manila Bay are now under review and are temporarily suspended.
In a press briefing in Malacanang, Loyzaga said the DENR is currently looking into the compliances under which the Environmental Compliance Certificates (ECCs) and area clearances were issued for said projects.
"The declaration is really that all of these projects are suspended at this point. So, all are under review. We have to take our time, really beginning with those that are ongoing, because they are in fact, already impacting the areas. And then, we will graduate to those that are in fact, still not yet begun," Loyzaga said.
"When the ECCs and the area clearances were issued, there were conditions attached to those ECCs and area clearances. So we're looking now at the actual compliance to those conditions, and iyon po ang medyo mabigat na trabaho because ang dami po niyan (that is the difficult part of the work) and it involves multiple agencies giving their no objection or objection to the different projects," she added.
On Monday, President Ferdinand R. Marcos Jr. went to Pampanga and Bulacan to personally see the flooding situation in these provinces.
He then announced that he ordered the suspension of all reclamation projects in Manila Bay except for one pending review.
"As soon as the President speaks, I think that will be in effect. And so he actually declared this over the last couple of days, I think, when he was in the Bulacan area for the flood incident," Loyzaga said.
She explained that as soon as the thorough review of all the projects has been made, companies undertaking the projects will be given a period within which they may be able to correct whatever violations that will be cited.
She added that they will also be guided as to what can be done or not during that period, "and if they do not comply, it's possible for, of course, the ECCs to be suspended."
Loyzaga said that all Manila Bay reclamation projects were approved under the previous administration.
She assured the current administration understands the intersection between sustainable development, the environment, biodiversity, climate change, and land-use change, among others.
Thus, they are now looking at the environmental impacts, as well as the social impacts of these projects.
Long term effect of reclamation
Loyzaga noted that any disruption in any natural ecosystem will alter its function.
"So, when an ecosystem is actually in place, it's in fact in a state wherein it provides certain services, ecosystem services, such as for example the drainage of flood waters. Then, when that is disrupted by any kind of physical introduction, infrastructure, or digging-up just for any purpose, there will be a disruption in the delivery of that service," she said.
Loyzaga added that certain sections of the Manila Bay are at zero elevation, while some are actually subsiding, which may have a great impact, especially in cases of extreme weather conditions.
"Looking forward to 10, 15, 20 years, when you have an extreme weather event, what's important is (that) the ecosystem service of drainage for flood management for example, needs to be preserved and enhanced, especially because the city of Manila and other cities around the bay have areas which are heavily populated, quite well-developed but almost at zero elevation. So, in terms of the long-term prospects, we need to take into consideration (the) climate change impacts on the cities that are involved and in municipalities that are involved," she said.
Loyzaga noted that geological risk must also be considered, especially amidst discussions of a possible strong earthquake called 'the big one'.
Aside from the West Valley Fault, she said there is also the Manila trench scenario as previously stated by the Philippine Institute of Volcanology and Seismology, which should be taken into consideration in the long term as well as in the medium term, that may impact everything that is built around the bay region. (PNA)