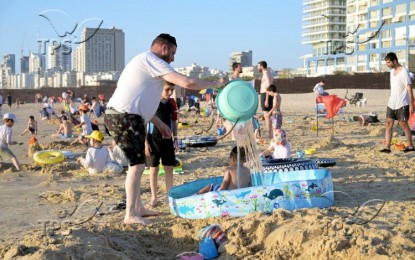 JERUSALEM – The Israel Meteorological Service Thursday warned of an extreme heat wave across the country in the coming days.
Friday will see normal weather for the month of August, but on Saturday the temperatures will start to rise across Israel but mainly in the mountains and the interior of the country.
The heat wave is expected to peak on Sunday with roasting temperatures in the mountains and the eastern valleys, with many places above 40 degrees Celsius (104 degrees Fahrenheit) and some areas over 45 degrees Celsius (113 degrees Fahrenheit).
The daily peaks along the coastline will be lower at 30 to 35 degrees Celsius (86 to 95 degrees Fahrenheit) but with high humidity, meaning that the beaches and nearby areas will still feel the extreme heat.
According to the Israel Meteorological Service, a rare phenomenon for this season of medium-to-high clouds in the sky will roll in from the east and possibly bring lightning.
Temperatures will start dropping on Monday and the rest of the week will see seasonally normal weather.
A heat wave hit Israel last month as well, one that affected the eastern Mediterranean region as well as the Balkans and much of Europe.
The Health Ministry urged the elderly and the chronically ill to avoid exposure to the sun and called on the public to drink lots of water to avoid dehydration and heatstroke. Authorities also banned lighting fires in public areas and placed an aerial firefighting squadron on special alert. (TPS)