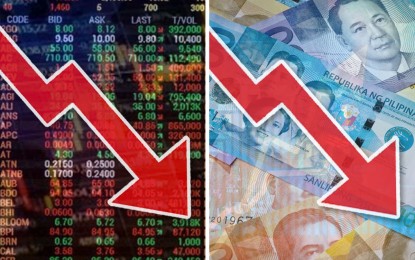 MANILA — Local shares continued to fall while peso depreciated on the last day of trading this week following the release of economic data.
The Philippine Stock Exchange index (PSEi) further declined on Friday by 43.75 points to 6,405.91.
"On the last day of trading of the week, the local bourse extended its decline...as the drop in FDI (foreign direct investment) net inflows further weighed on negative sentiment following the disappointing second-quarter GDP (gross domestic product) growth figures released yesterday," Philstocks Financial Inc. research associate Claire Alviar said.
The central bank reported that FDI net inflows in May 2023 dropped by 34 percent year-on-year to USD488 million.
Moreover, all shares also decreased by 15.19 points to 3,430.19, with all sectors ending in the negative territory, except for Mining and Oil.
Mining and Oil shares increased by 58.72 points, closing at 9,849.30.
This day's losers were led by Holding Firms, down by 51.94 points; followed by Property, 23.90 points; Industrial, 16.89 points; Services, 14.99 points; and Financials, 4.37 points.
"(T)he net market value turnover remained weak at PHP3.58 billion, as many investors remained on the sidelines," Alviar added.
Shares of 74 listed firms increased, led by Alliance Global Group, Inc., up by 3.19 percent.
Aboitiz Equity Ventures led this day's 94 losers, with a 2.34-percent decrease in shares.
Forty-three counters were left unchanged.
Meanwhile, the peso further weakened to 56.32 to a US dollar from last trading's finish of 56.22.
The local currency kicked off at 56.23 from the previous day's opening of 56.25.
The currency pair traded between 56.10 and 56.34, bringing the average level for the day at 56.20 to the greenback.
Volume of trade climbed to USD1.43 billion from a volume of USD1.24 billion Thursday.
Rizal Commercial Banking Corp. analyst Michael Ricafort forecast that the peso-dollar exchange rate will range from 56.20 to 56.40 on Monday. (PNA)