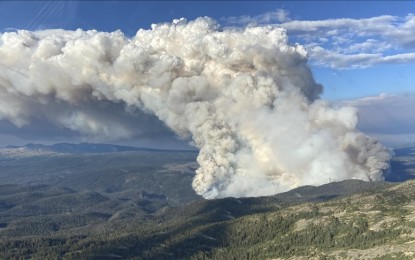 TRENTON, Canada – Canada is burning up with 5,500 wildfires consuming 13.4 million hectares (33.1 million acres) to date and officials warned Friday there is "significant fire activity" still to come.
The fires have raged through every province and territory from coast to coast, from British Columbia in the West to the Northwest Territories and Newfoundland in the East, officials said.
The area consumed to date is more than the size of Greece.
"This summer has turned into a challenging marathon," Michael Norton, director general of the northern section of the Canadian Forest Centre, told reporters. "Unfortunately, the bottom line is that the fire season is not over and it's likely we'll experience significant fire activity for many weeks yet."
To illustrate the extent of the wildfires this season, the 10-year average is 2.2 million hectares consumed and the previous record was in 1989 when 7.6 million hectares were burned.
There have been 211 evacuation orders to date and more than 167,000 people have been forced to leave their homes, officials said.
"There has been very little respite since May. This season has been relentless. This is by far the largest amount of area burned since we started keeping good records," Norton said. (Anadolu)