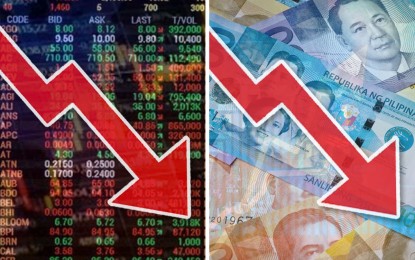 MANILA – Like the majority of Asian stock markets, local shares closed in the negative territory while the peso further weakened on Monday.
The Philippine Stocks Exchange index (PSEi) continued to shed for three trading days in a row, losing 76.72 points to 6,329.19, its nine-month low since Nov. 15, 2022.
"Investors' sentiment continued to be dragged by the disappointing Q2 (second quarter) economic growth," Philstocks Financial Inc. research associate Claire Alviar said. "Overseas, Asian markets were mostly in the red as worries over the property sector in China heightened."
All shares declined by 32.30 points to 3,397.89, with all sectors closing with decrements except for Mining and Oil which gained by 59 points to 9,908.30.
The biggest drop in shares came from Holding Firms, shedding 95.91 points to 5,969.99; followed by Property, 57.03 points to 2,618.75; Industrial, 21.47 points to 8,972.26; Services, 20.17 points to 1,532.79; and Financials, 8.88 points to 1,899.66.
Regina Capital Development Corp. head of sales Luis Limlingan, in a separate comment, said investors are also waiting for the Monetary Board meeting on Thursday, as well as the June 2023 overseas Filipinos remittances report.
Value of shares traded reached PHP4.58 billion.
Decliners outpaced advancers at 118 to 45, with 53 counters left unchanged.
Meanwhile, peso finished at 56.78 against the US dollar from 56.32 last Friday.
Rizal Commercial Banking Corp. chief economist Michael Ricafort said the local currency is at "new highs in nearly nine months or since November 23, 2022, when it closed at 56.94".
The peso opened the day weak at 56.45 to a dollar as against the 56.23 kick off in the last trading.
It almost touched the 57-level as it traded between a low of 56.45 to a high of 56.99.
The weighted average level for the day settled at 56.80 to the greenback.
Volume of trade slightly slipped to USD1.41 billion from Friday's volume of USD1.43 billion.
"For tomorrow, the peso exchange rate could range at the 56.60 to 56.90 levels," Ricafort added. (PNA)