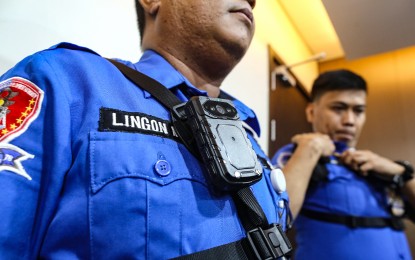 MANILA – Amid the public outrage over the recent killing of a Navotas teenager in a police operation, House of Representatives Deputy Speaker and Las Piñas Rep. Camille Villar on Tuesday sought the immediate passage of a measure seeking to institutionalize the use of wearable body cameras in legitimate law enforcement operations.
"An efficient and functional policy regarding use of body cams and dashcams should already be in place as these could provide crucial evidence at crime scenes or during operations," she said in a statement.
Villar, author of House Bill (HB) 8352, which seeks to mandate the use of body cameras and police dashcams, said the case of 17-year-old Jemboy Baltazar, who was shot and killed by police in what they considered as mistaken identity, is a "huge setback" in delivering greater transparency in police operations.
"Clearly, with the body cam law in place, it can provide transparency and accountability in questionable law enforcement operations, especially as regards internal reviews involving officers and investigations involving victims," she said.
Similarly, Senator Sherwin Gatchalian seeks for the passage of his Senate Bill No. 1057 or the Police On-Body Cam Act while expressing dismay upon learning that Navotas City Police agents failed to wear or turn on body-worn cameras during their operations.
"The function of the on-body camera will be two-pronged: protect the public against police misconduct by improving law enforcement accountability and help protect our policemen from false and uncorroborated accusations of abuse," Gatchalian said in a statement.
The bill provides that on-body cameras shall record in full all activities incidental to the conduct of the operation. The recordings of these events shall be continuous to ensure that they cannot be manipulated.
"Patuloy nating isusulong na maging batas ang pagsusuot ng mga pulis ng body-worn cameras sa kanilang mga operasyon. Sa ganitong paraan, mababantayan natin kung patas at makatarungan ang mga operasyon ng mga alagad ng batas (We will continue to push for the passage of this law urging policemen to wear body cameras in all operations. This way, we will able to monitor the fairness of the operations of our law enforcers)," he added.
Under Villar's HB 8352, all law enforcement officers with the authority to conduct searches and make arrests shall be required to wear a body camera and record the events that occur while in the course of conducting a search warrant or arrest.
They shall also be required to install dashboard cameras on vehicles to be used to record the events that occur while conducting a search or making an arrest.
Body cameras and dashboard cameras shall be respectively worn and installed in a location and manner that maximizes the cameras' ability to capture video footage of the law enforcement officer's activities.
Under the measure, all video footage taken using a body cam or a dashboard camera shall be retained for one year and for no less than three years if the video footage captures an "interaction or event involving any use of force or an encounter about which a complaint has been registered by a subject of the footage."
During the one-year retention period, the following persons shall have the right to inspect, and/or possess a copy of the video footage: any person who is a subject of the footage, or their legal counsel; a parent or legal guardian of a minor subject of the footage, or their legal guardians; the spouse, next of kin or legally authorized designee of a deceased subject of the footage, or their legal counsels; the law enforcement officer who recorded the footage, and his/her superior officer, or their legal counsels.
Once approved, the implementing rules and regulations of the legislation shall include disciplinary measures and penalties for failure to wear and keep the body camera during "interaction" with the public. (With a report from Leonel Abasola/PNA)