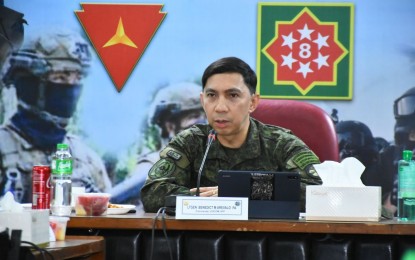 CEBU CITY – The top Army official in the Visayas reminded voters not to support candidates affiliated with the Communist Party of the Philippines-New People's Army (CPP-NPA) in the Barangay and Sangguniang Kabataan elections (BSKE).
Lt. Gen. Benedict Arevalo, Visayas Command (Viscom) chief, said in a statement Tuesday that they need all the help they could get in preventing the CPP-NPA from regaining their foothold in the region.
"As the Barangay and SK elections are fast approaching, we encourage our people to cast their vote wisely by not supporting individuals who are affiliated with the terrorist group," Arevalo said.
Arevalo cited the vibrant partnership of the military in the region with the local government units and private stakeholders in drumming up dialogues through localized peace engagements that led to the piling of losses in the communist side.
"Our focused military operations coupled with our localized peace engagement have been proven effective in pushing the terrorist group to the brink of irreversible downfall," he said.
He said the latest stinging blow against the CPP-NPA came after its high official surrendered while the other was killed over the weekend.
Lt. Col. Israel Galorio, Viscom spokesperson, told the Philippine News Agency that a finance officer of the NPA's sub-regional guerilla unit under the Eastern Visayas Regional Party Committee has surrendered.
The finance officer revealed to the troops the location of an arms cache in Barangay Happy Valley, San Isidro, Northern Samar on Saturday, leading to the seizure of an M16 rifle, a cal. .22 rifle, an upper receiver of an M16 rifle, an anti-personnel mine, and other war materiel.
Galorio said the troops also recovered another anti-personnel mine in the vicinity of Barangay Buenavista, Victoria town.
Galorio said soldiers from the 61st Infantry Battalion likewise encountered remnants of the weakened Southern Front under Komiteng Rehiyon Panay at the boundary of Barangay Ayobo and Barangay Cananaman, both in Leon, Iloilo.
One NPA rebel was killed while war materiel, a cal .45 pistol, two backpacks, and a hand grenade were recovered. (PNA)