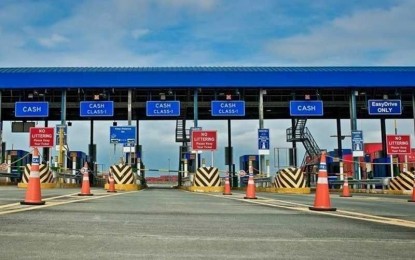 MANILA – The two-month dry run for cashless toll collections on selected toll plazas will begin on Sept. 1, the Toll Regulatory Board (TRB) said.
The TRB, an attached agency of the Department of Transportation (DOTr), in a statement posted on its Facebook page Tuesday, said the dry run is a "necessary procedure" to ensure the readiness of tollway concessionaires and operators of expressways for the smooth and efficient reimplementation of the program.
"A first batch of qualified toll plazas will initially form part of the dry-run. Other qualified toll plazas will gradually be included during the dry-run period," the statement read.
The TRB also "strongly encourages" tollway users to switch from cash to radio frequency identification (RFID).
"For those with existing RFID sticker, they are advised to have their RFID sticker checked if it needs replacement, and that they have sufficient load before they enter the expressway," it said.
Earlier, the DOTr issued Department Order 2020-12 requiring cashless transactions for all vehicles traveling on toll expressways, initially as a measure to mitigate the transmission of the coronavirus and at the same time ensure an efficient traffic flow.
However, due to complaints about constraints and glitches in the electronic toll collection (ETC) systems received during the program implementation in November 2020, the DOTr issued an addendum in January 2021 allowing vehicles with no RFID stickers and requiring cash lanes in all toll plazas, which remains in effect.
In the TRB's special performance audits on ETCs of expressways from Feb. 23 to June 22, it assessed a total of 717 out of 852 or 84 percent operated toll lanes.
The remaining 135 toll lanes or 16 percent are currently being operated as cash lanes and will be tested once converted to ETC lanes.
Based on the audit results, the TRB's audit team recommended a two-month dry run on the selected qualified toll plazas, which was approved by the multi-agency members of the TRB in its regular meeting on July 28.
The toll plazas that are qualified to participate in the dry run are:

Easytrip subscribers:
A. North Luzon Expressway – all toll plazas
B. Subic Clark Tarlac Expressway – all toll plazas
C. Cavite-Laguna Expressway – all toll plazas
D. Manila-Cavite Toll Expressway-C5 Southlink
• Taguig Toll Plaza
• Merville Toll Plaza

Autosweep subscribers:
A. NAIA Expressway – all toll plazas
B. South Metro Manila Skyway, Stages 1 and 2
• Skyway Elevated Alpha and Bravo
• C5 Exit and Entry
• Nichols Entry
- Nichols Exit
• Merville Exit
• Bicutan Entry Southbound (SB) and Northbound (NB)
• Sucat Exit SB and NB
• Alabang SB Exit
C. South Luzon Expressway
• Filinvest Exit and Entry
• Alabang NB and SB
• Mamplasan NB
• Sta. Rosa NB
• ABI SB and NB
• Cabuyao SB
• Silangan SB
• Batino SB Exit
• Calamba-Turbina SB Exit
• Calamba NB Exit
• Canlubang SB Entry
• Calamba SB Entry
• Calamba-Real NB Entry
• Calamba-Turbina A NB Entry
D. Muntinlupa-Cavite Expressway – all toll plazas
E. Metro Manila Skyway Stage 3
• Buendia NB Entry
• Buendia SB Exit
• Plaza Dilao SB Entry
• G. Araneta NB Entry
• Quezon Ave. NB Entry
• Quezon Ave. NB Exit
• Quezon Ave. SB Entry
• Del Monte NB Alpha
F. Tarlac-Pangasinan-La Union Expressway
• Victoria Toll Plaza
• Pura Toll Plaza
• Anao Toll Plaza
• Pozzorubio Toll Plaza
• Rosario Toll Plaza
G. STAR Tollway
• Sto. Tomas SB Entry
• Sto. Tomas NB Entry
• Tanauan NB Entry (PNA)