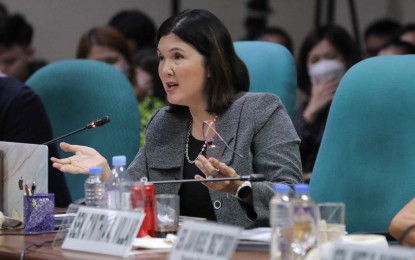 MANILA – Senator Pia Cayetano has called on the National Economic and Development Authority (NEDA) to take the lead in sustaining the country's health sector, especially in addressing the shortage of healthcare professionals.
During the Development Budget Coordination Committee (DBCC) briefing on the proposed 2024 National Expenditure Program (NEP) on Tuesday, Cayetano noted that the problem is both the Department of Health (DOH) and the Commission on Higher Education (CHED) have their "hands full" to focus on the shortage of health human resources.
"We only talk about the nursing shortage, but we have a shortage of pharmacists, physical therapists, occupational therapists, everything that makes a health system sustainable, we have a shortage," she said at the start of the Senate's deliberations on the proposed national government budget for 2024.
"Everything that makes a health system sustainable, we have a shortage. Who is taking the lead? I would like to recommend that it would be NEDA-led," she said. "We really, really need a leader in this area, because we will also fall short, we will not be able to sustain a healthy country."
In a previous hearing of Senate Committee on Sustainable Development Goals, Innovation and Futures Thinking, which Cayetano chairs, she stressed the significance of knowing the reasons why Filipino healthcare workers opt to leave the country urging the Departments of Foreign Affairs (DFA) and Migrant Workers (DMW) to craft agreements with foreign countries to address the problem.
From 1990 to 2017, a total of 156,605 nurses were cited by the DOH as temporary migrants and 17,491 were considered as permanent migrants. For physicians, 1,908 were temporary migrants and 4,465 were permanent migrants.
To help address the shortage, NEDA suggested the government to implement a possible step-up ladder health curriculum; provide internship program with appropriate benefits; improve working conditions and job satisfaction; and increase the use of technology and telemedicine.
Meanwhile, Cayetano lauded the DBCC for anchoring next year's proposed budget on sustainability principles, and in preparing the country for future challenges. (PNA)