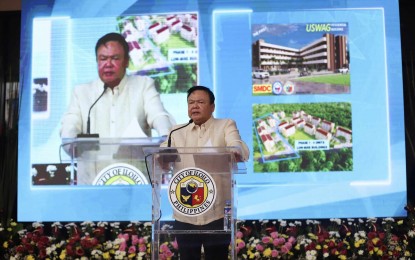 ILOILO CITY – Mayor Jerry P. Treñas presented his goal to position Iloilo City as among the country's top 3 most competitive highly urbanized cities (HUCs) in the Philippines by 2028 when he delivered his State of the City Address (SOCA) Wednesday.
"I am thrilled to present to you a transitional blueprint, a grand roadmap that envisions nothing short of a transformational metamorphose of our beloved Iloilo City. With all the many achievements we have, we should not be resting on the laurels but rather push forward with renewed vigor," he said before city hall officials, business sector, private sector partners and other stakeholders present.
He said the roadmap anchors on four pillars including environmental sustainability, resilient infrastructure, innovative economic development and responsive and inclusive human development.
"Iloilo City shall be a model of a livable, sustainable, and resilient city of well-governed and empowered Ilonggos that safeguard the environment and preserve the culture while sustaining a robust, inclusive, and innovative economy," Treñas said.
The local government, he said, has been fostering green spaces, promoting waste reduction and advocating for clean energy alternatives.
Among the steps already taken is the establishment of a Beach Forest, Lanit Tree Park, and the mangrove eco-park as well as the redevelopment of plazas with notable green projects.
In terms of resilient infrastructure, the mayor said the city government will improve the walkability of sidewalks, install a Bike Sharing System through a mobile application, adopt e-vehicles as part of green transport and implement a comprehensive urban drainage plan that will lessen flooding.
For innovative economic development, he cited the ongoing market developments, digital systems for markets, national and international promotion of investments in Iloilo City, new real estate developments, and the most recent arrival of international container shipments.
He also mentioned the city government's Uswag Negosyo Academy for market vendors to help them upgrade their operations through digital services and equipped them with financial literacy.
"The heartbeat of our city is its economy, and we have embraced innovation as the driving force behind our growth. By nurturing local businesses, attracting investments, and fostering a culture of entrepreneurship, we have created a dynamic environment that breeds success," the mayor said.
Noteworthy in the responsive and inclusive human development pillar is the city's housing project for the urban poor.
"Backlogs were fast-tracked to identify those who need and deserve housing units," the mayor added.
To ensure the success of the goal, the city government, he said, will also strengthen its engagement in barangays, implement re-engineering in its organizational structure, embrace technology to foster connected and data-driven governance, streamline and digitalize financial processes, and become a model city of transparent and excellent governance.
"By harnessing the power of data analytics, smart city solutions, and digital platforms, we are improving the quality of life for every Ilonggo. Innovative programs and services like the installation of an intelligent traffic system will become the norm, enhancing accessibility, efficiency, and effectiveness across the board," he said.
In his SOCA, the mayor also cited three standout accomplishments of the city government since 2019 showcasing the strength, resilience and unity of Ilonggos, including the prestigious ASEAN Clean Tourist City Award, becoming a model in the fight against the health pandemic, and the success of public-private partnership projects. (PNA)