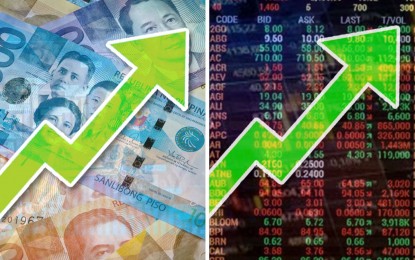 MANILA – For two consecutive days, bargain hunting has supported the local bourse pushing it back to its 6,400 level, while the peso also bounced back on Wednesday.
The Philippine Stock Exchange index (PSEi) recovered 74.18 points, supporting the equities market to reach 6,410.09 level.
All shares also increased by 25.54 points to 3,426.41, with five out of six sectors closed in the green.
"Funds bought up into the local market as investors sought refuge from the geopolitical concerns from China's woes," Regina Capital Development Corp. head of sales Luis Limlingan said.
"Locally, shares were bought up on bargain hunting, supported by the latest remittances print. This was reported to have reached a six-month high in June at USD2.81 billion, up by 2.1 percent year-on-year," he added.
Financials was the only sector that declined by 3.51 points to 1,900.92.
The rest ended in the positive territory, with three sectors increasing by over 100 points, which include Mining and Oil (+181.11 points), Industrial (+127.44 points) and Holding Firms (+103.97 points).
Property and Services also rose by 21.19 and 11.76 points, respectively.
Advancers outnumbered decliners at 92 to 89, with 45 issues left unchanged.
Meanwhile, peso appreciated by 0.32 to 56.52 to a US dollar from the previous trading's close at 56.84.
It started trading weak at 56.80 from last day's opening at 56.65.
The currency pair traded to a low of 56.52 to a high of 56.91, bringing the average level for the day at 56.76 to the greenback.
Total volume slipped to USD1.02 billion from USD1.09 billion on Tuesday. (PNA)