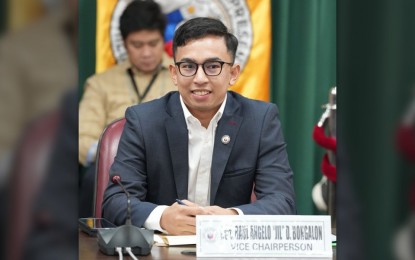 MANILA – A party-list lawmaker vowed on Thursday to help the Civil Service Commission (CSC) restore its original budget proposal for 2024 amounting to PHP3 billion.
During the budget deliberations of the House Committee on Appropriations, AKO BICOL Rep. Raul Angelo Bongalon said he would ask the panel to increase the CSC's budget from the PHP2 billion proposed by the Department of Budget and Management (DBM) for next year.
"So, I fully support and commend, and therefore, I will ask Congressman Zaldy (Co) as the chairman of the Committee on Appropriations to move for the increase of the budget of the CSC," he said.
CSC chairperson Karlo Nograles asked the House to restore the agency's budget for its recurring expenses, as well as utilities and facilities for its regional offices.
Nograles identified the following as some of the CSC major thrusts for next year: formulating human resource policies responsive to the current needs and challenges of civil servants during and after the coronavirus disease pandemic, such as flexible work arrangements and policy on night shift differential; and enhancing civil service systems and procedures for efficient public service delivery in support of Republic Act 11032 or the "Ease of Doing Business and Efficient Government Service Delivery Act".
Other initiatives of the commission include digital transformation by shifting existing external service to digital gateway, as well as digitally enabling regional and field offices; institutionalization of human resource excellence in the bureaucracy through the Program to Institutionalize Meritocracy and Excellence in Human Resource Management (PRIME-HRM); and adoption of an additional method or mode of taking the Civil Service Examinations (CSE) in light of more test takers and the demand for frequent administration of the CSE.
Nograles said of their PHP2.060-billion proposed budget for 2024, PHP1.431 billion would go to personnel services (PS), PHP89.34 million to capital outlay (CO), and PHP43.500 million to maintenance and other operating expenses (MOOE).
Committee on Appropriations Vice Chairman Rep. Arnie Fuentebella, meanwhile, said the country now more than ever needs a civil service to face the needs of the citizenry as people live out to the new normal that they have been looking forward to embracing years ago.
He added that the most paramount consideration for the successful implementation of the administration's national programs and policies will entail further capacitating the government as a whole and investing in its civil servants.
"An investment in our civil servants' meritocracy, professionalism, and ethics will result in the efficient delivery of public services and will further encourage partnerships between the government and private sector. To carry out the lofty vision of President (Ferdinand) Marcos (Jr.) for the bureaucracy would entail an investment not only in technology but in the people's skills and competence," Fuentebella said. (PNA)