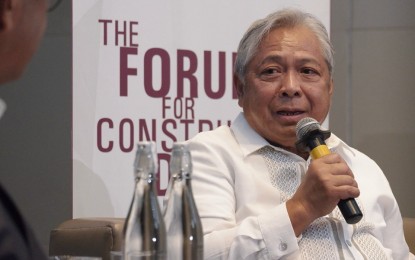 MANILA – The Department of Transportation (DOTr) sees large-scale infrastructure projects thriving under the "efficiency and flexibility" of its partners in the private sector.
In his message during the contract signing of four of the DOTr's Infrastructure Flagship Projects' (IFP) consultancy services, DOTr Secretary Jaime Bautista said the private sector's expertise in transportation planning, architecture, landscape architecture, civil engineering, and other aspects will be relied upon by the government.
"Pursuant to (President Ferdinand R. Marcos Jr.'s) directive, the DOTr is working full speed and is commencing the feasibility studies of four IFPs," Bautista said.
The four contracts signed involve consultancy services with the Public-Private Partnership Center, Deloitte Touche Tohmatsu, Isla Lipana & Co (PwC Philippines), and SyCip Gorres Velayo & Company (SGV) for the Cebu Bus Rapid Transit (BRT) operations and maintenance, and feasibility studies for the NCR EDSA Busway, Manila Bay-Pasig River-Laguna Lake Ferry System (MAPALLA) and North Long Haul Inter-Regional Railway (North Railway).
The North Railway is a planned 800-kilometer railway that will revive the legacy railway to Ilocos and Cagayan Valley, linking the economic centers in Luzon's northern and northeastern parts.
The MAPALLA, meanwhile, is a ferry system that will rehabilitate and expand the Pasig River Ferry to allow for improved and higher frequency services that will serve the National Capital Region (NCR) and neighboring provinces including Bulacan, Cavite, Laguna, and Rizal.
"The ferry system will feature low-carbon ferries servicing tens of thousands of passengers daily," Bautista said.
Meanwhile, the EDSA Busway plans to improve the existing EDSA Carousel by addressing the high demand for transportation through increasing capacity and service reliability.
"The project may also involve the introduction of electric buses, reducing the carbon emissions along heavily trafficked corridors of Metro Manila,"the DOTr chief said.
On the other hand, the Cebu BRT is a 13.18-kilometer bus lane in Cebu stretching from Mambaling to Cebu IT Park.
Once completed, it is expected to serve up to 160,000 passengers per day. (PNA)