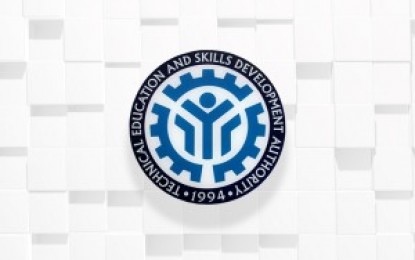 MANILA - An official of the Technical Education and Skills Development Authority (TESDA) on Thursday said the agency has shifted its focus on higher TVET (technical and vocational education and training) as well as adopting the best practices of other countries.
"We are aggressively focusing on the needs of the industry -- the digital revolutions. So, we are offering higher courses. We have already introduced cyber security, robotics, and smart healthcare," TESDA Deputy Director General Aniceto "John" Bertiz III said in a public briefing.
"TESDA is now focusing on high technical training, and adopting the best practices of other countries. Mutual recognition of assessment and certification of other countries are also being adopted," he added,
As example, Bertiz cited Singapore which introduces technical education to the youth, to help them decide whether to pursue this path.
" Their (students') iPad and gadget are not only for gaming, but they could actually use these as learning tools to develop their skills," he said.
Reports said the Department of Budget and Management has allocated PHP3.4 billion for free TVET in 2024.
Bertiz said this is a huge help due to the growing number of graduates.
There were 1.2 million TESDA trainees who graduated in 2022, and TESDA is targeting 1.8 million enrollees for its various skills training courses and programs this year.
"We really need additional funds to cater to the growing number of enrollees. This could also help us develop more high-skills training geared towards the fourth industrial revolution, future skills and technologies," he said, adding that TESDA is also upgrading its provincial training services.
The agency has been prioritizing marginalized sectors in terms of providing TVET in coordination with local government units of various provinces.
TESDA has also been partnering with industries to help the agency in crafting the courses as well as for the apprenticeship of its students.
"It's very important to strengthen the TVET system. Most of the industries now are coordinating with TESDA and they share their latest training regulations. These are modules being adopted by TESDA based on industry demand," Bertiz said. (PNA)