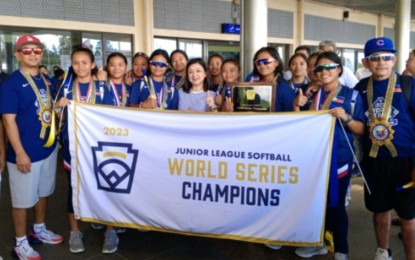 BACOLOD CITY – The softbelles from Bago City, Negros Occidental, who brought honor to the country after winning the 2023 Junior League Softball World Series title in Kirkland, Washington on Aug. 5, returned to the province with a heroes' welcome Friday afternoon.
Representing the Asia-Pacific Region, they defeated USA's East Region, 3-0, in the finals of the 12-14 age category to bring home the Philippines' second title in 20 years.
Pitcher Erica Arnaiz, who led the team with 85 strikeouts, said she is glad to be home and grateful for the grand welcome accorded to them.
"We didn't expect to become champions but with God's help, we did it," she said.
They swept their first six matches to arrange a championship showdown with the team from Milford, Connecticut.
Arnaiz said determination, hard work and discipline were the keys to their victory.
Head coach Francis Fuentes said he is thankful to bring the championship back to the Philippines after two decades as he acknowledged the support of the city government of Bago, led by Mayor Nicholas Yulo.
From Bacolod-Silay Airport, a motorcade took the team to the capitol for a courtesy call on Governor Eugenio Jose Lacson.
"I congratulate them. It shows that we Filipinos can compete in the international level," Lacson said.
The team then continued with the motorcade going to the Bago City Community Center.
Upon arrival in Manila on Wednesday, the team paid a courtesy call at the Senate, where they were honored through a resolution.
Senate Resolution 723 sponsored by Senate President Juan Miguel Zubiri stated that the Junior League world champions "deserve praise, recognition and commendation for bringing pride and inspiration to the Filipino people and for showing to the world the unrelenting spirit of Filipinos."
"We are immensely proud of our girls for not only representing Asia-Pacific and the Philippines but also Negros Occidental as well. They remain undefeated in their whole junior league run," Zubiri said. "We salute the whole team for putting Negros Occidental back on top of the softball scene."
On Thursday, the team was welcomed by officials of the Philippine Sports Commission, led by Chairperson Richard Bachmann and Women in Sports Oversight Commissioner Bong Coo, at Rizal Memorial Sports Complex in Manila.
In a statement, Michael Zialcita, district administrator of Little League Philippines, lauded the country's Junior League world champions for "achieving a remarkable milestone in their softball journey."
Arnaiz and her teammates Thereze Francine Fuentes, Ann Dyana Buenafe, Icelle Tanaman, Ashley Ortiz, Froline Manalo, Christine Jane Caracas, Daniela Bejos, Audrie Sarsona, Marie Antoinette Sicapore, Nice Lobrido and Casandra Sumatra are students of Ramon Torres National High School. (PNA)