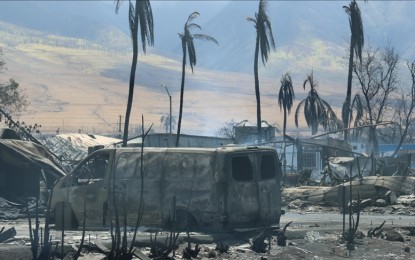 HOUSTON, US – The head of the Maui Emergency Management Agency (MEMA) stepped down from his post Thursday following severe criticism over its response to wildfires in the town of Lahaina, in which the death toll now stands at 111.
Herman Andaya's resignation came a day after he defended his decision to not sound emergency sirens during the deadly wildfires on the Hawaiian island.
Maui County officials issued a news release that said Mayor Richard Bissen accepted the resignation of the MEMA administrator, who cited "health reasons" and said it was "effective immediately."
"Given the gravity of the crisis we are facing, my team and I will be placing someone in this key position as quickly as possible, and I look forward to making that announcement soon," Bissen said.
The wildfires broke out on Aug. 8 and swept through Lahaina, destroying thousands of homes and buildings and killing more than 100 people, making them the deadliest natural disaster in Hawaii since it became a state in 1959.
Asked about his decision not to sound the sirens, Andaya said at a news conference Wednesday that they were primarily used for tsunami warnings and feared that by sounding them it would have made coastal residents flee inland toward the blaze.
"The public is trained to seek higher ground in the event that the siren is sounded.
"Had we sounded the siren that night, we were afraid that people would have gone mauka," he said, using a Hawaiian word that means "to the mountainside."
"And if that's the case, then they would have gone into the fire."
Andaya said the agency's protocol to warn of brush fires had been to use alert systems that send messages to cell phones and through television and radio, according to NBC News.
However, by not sounding the sirens, residents had no other way to receive emergency alerts sent to their cell phones and mobile devices because the power had been out to many on the island since early that morning.
Hawaii Attorney General Anne Lopez announced Thursday that she will conduct "an impartial, independent review" through a private third-party organization with experience in emergency management that "will ensure accountability and transparency and reassure the people of Hawaii that all of the facts will be uncovered."
"The information collected will be used to assess the performance in emergency preparedness, as we are constantly looking for ways to improve," Lopez said in a statement.
"We intend to look at this critical incident to facilitate any necessary corrective action and to advance future emergency preparedness." (Anadolu)