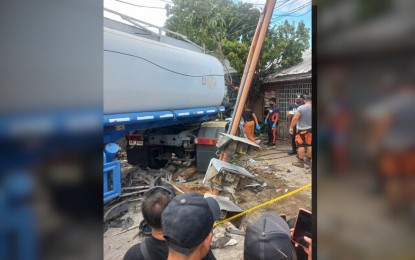 DUMAGUETE CITY – A family of three and another person were killed while one was hurt in a road accident along the national highway in Barangay North Poblacion, Bacong town in Negros Oriental Saturday morning.
A report from the Negros Oriental Police Provincial Office (NOPPO) identified those killed as couple Ruel and Analie Pascual, 47 and 43, respectively; their 15-year-old daughter Shelly; and Meliton Blanco, 59.
The injured was identified as Wilson Kial, 43.
Lt. Stephen Polinar, deputy chief of the NOPPO Police Community Affairs and Development Unit, told the Philippine News Agency that a wayward tanker truck caused a traffic pileup after one of its tires burst.
The driver lost control of the truck and crossed to the other lane, hitting the victims.
"The Pascual family was on board a motorcycle, Blanco was driving a motor vehicle popularly known as "chariot" and Kial was driving another motorcycle that all figured in the traffic accident," Polinar said.
The oil tanker, registered under the name of New Bian Yek Commercial, Inc., was traveling to the south while the victims came from the opposite direction.
The driver sustained minor injuries and is now under the custody of the Bacong police as charges are being readied against him. (PNA)