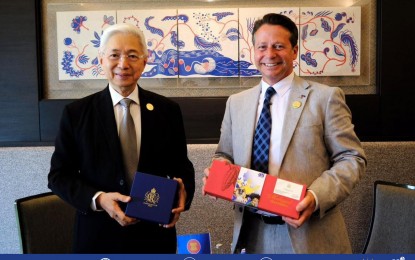 MANILA – The United Kingdom (UK) is eyeing to establish a Joint Trade and Economic Committee (JETCO) with the Philippines to bolster economic ties.
The Department of Trade and Industry (DTI) welcomed UK's interest to strike an agreement with the Philippines to form a committee that would boost both countries' trade and economy, DTI Secretary Alfredo Pascual said in a social media post.
"This will serve as a platform to enhance economic relations, promote more trade and investments, and address related issues," read the post on DTI's Facebook page.
UK establishes JETCO with different countries to address trade barriers and improve the flow of trade in goods and services.
In Southeast Asia, UK has JETCO with Indonesia, Malaysia, Thailand and Vietnam.
Last June, the UK launched the Developing Countries Trading Scheme with Manila which provides preferential tariffs on goods entering the UK.
Both countries also committed in May to develop a refreshed Joint Action Plan on Trade, Investment and Economic Cooperation until 2024.
Pascual, as the coordinator for ASEAN-UK Economic Relations, met British Minister for International Trade Nigel Huddleston in Indonesia at the ASEAN economic ministers' meeting over the weekend.
"Both Ministers expressed their strong commitment to continue working together to deepen ASEAN-UK economic relations," the post added.
Likewise, Pascual welcomed the projects and initiatives of the UK in ASEAN that support the region's digital transformation and inclusive growth.
"Southeast Asia offers big opportunities for British businesses. That's why our team of specialists has been working hard to remove barriers to trade to help companies sell even more to this dynamic region," Huddleston said ahead of his Southeast Asia trip, as quoted by Conservative Post UK. (PNA)