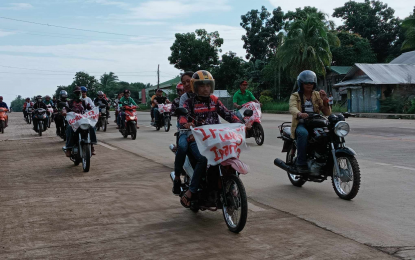 PUERTO PRINCESA CITY, Palawan – Anti-mining advocates on Monday held a "victory motorcade" in Brooke's Point town, this province to celebrate the issuance of a cease and desist order (CDO) by the National Commission on Indigenous Peoples (NCIP) and writ of kalikasan by the Supreme Court on mining operations last week.
Residents, particularly the members of indigenous communities in the coastal municipality, have been opposing the mining activities, claiming that the concession encroaches on forests and ancestral domains, thus, damaging their lands and adversely affecting their livelihood.
The Indigenous Peoples (IPs), in particular, said the operations of Ipilan Nickel Corporation threaten to cause significant destruction on the Mt. Mantalingahan Protected Landscape.
Job Lagrada, one of the motorcade organizers, expressed gratitude to everyone who participated in the event and emphasized the importance of united efforts in the ongoing struggle of the IPs.
"Our intention is to let everyone know what the cease and desist order against Ipilan Nickel Corporation is all about. We would like to thank all those who took part in this fight," he said.
The motorcade, which began in Barangay Calasaguen, traversed Barangay Maasin, the site of controversial mining operations, before heading towards the Poblacion area for a planned event at the Octagon Plaza.
During the event, Vice Mayor Mary Jean Feliciano, a staunch anti-mining advocate, said, "The issuance of the Writ of Kalikasan and cease and desist order is only the beginning… we are still a long way from our objective."
A writ of kalikasan is a legal remedy that provides protection of one's constitutional right to a healthy environment, as provided for under Republic Act 7942, otherwise known as the Philippine Mining Act of 1995.
Feliciano appealed to the Department of Environment and Natural Resources (DENR) and the Mines and Geosciences Bureau (MGB) to strictly enforce environmental laws, even as he claimed that mining operations have been conducted at Brooke's Point without the necessary permits. (PNA)