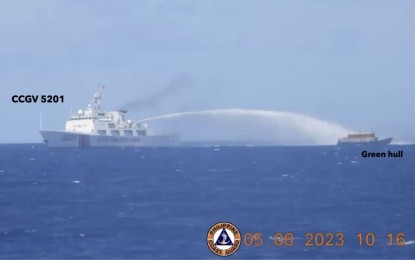 MANILA – Senator Imee Marcos on Tuesday called for a peaceful resolution to the conflict surrounding the Ayungin Shoal in Palawan amid the planned rotation and resupply (RoRe) mission of the Armed Forces of the Philippines (AFP).
"The first line of defense is diplomacy. Let us settle our conflict in a peaceful manner. We should fully comply with our obligation under the UN Charter to settle conflicts in a peaceful way. China sent us a note to dialogue, let us talk to them," Marcos said in a statement.
The lawmaker also raised the need for every attempt by Filipino diplomats, the Philippine Coast Guard, and military personnel to communicate with China to be documented "to the extent permissible."
"We should make records of these attempts accessible to neutral third parties so that they may verify our efforts and China's responses thereto. This way, the world can ascertain both countries' sincerity in engaging in genuine dialogue," she said.
Marcos, who chairs the Committee on Foreign Relations, said the RoRe mission in Ayungin Shoal – which is part of the Philippines' exclusive economic zone (EEZ) but is being claimed by China, noting that it is part of the Spratly Islands – is within the country's legal rights and should be protected by all means necessary through peaceful means.
"Thus, if we need larger and more powerful supply ships and PCG escort ships, then we will acquire them, preferably by building them ourselves," she said. "Might does not make right. We will stand our ground because we are in the right."
AFP spokesperson Col. Medel Aquilar earlier said the planned RoRe mission aims to show "a clear demonstration of our resolve to stand up against threats and coercion, and our commitment in upholding the rule of law" and maintain the Philippines' presence in the Ayungin Shoal.
Meanwhile, Senate Minority Leader Aquilino Pimentel III disagreed with the decision of Palawan coastal municipality Kalayaan to declare Chinese Ambassador to the Philippines Huang Xilian persona non grata in response to the harassment of China Coast Guard against Philippine vessels on Aug. 5.
Such actions should be "avoided as much as possible" because the ambassador of a foreign nation is the representative of another country, Pimentel said in a statement.

On the other hand, fellow opposition Senator Risa Hontiveros said in another statement that she respects the town's declaration.

"The municipality has all the right to defend their home, not least by banning individuals who continue to disrespect Philippine sovereignty and the dignity of the Filipino people," she said. (With a report from Leonel Abasola/PNA)