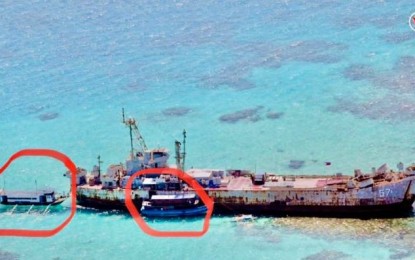 MANILA – The resupply mission to the detachment manning the BRP Sierra Madre (LST-57) in Ayungin Shoal has been successful, the National Task Force for the West Philippine Sea (NTF-WPS) said Tuesday.
It added that the success can be attributed to the efforts of the Armed Forces of the Philippines (AFP) and the Philippine Coast Guard (PCG).
National Security Adviser Eduardo Año, who is also NTF-WPS chair, commended the "unfailing valor, determination, and professionalism" shown by the AFP and PCG personnel.
"The Filipino people owe them a debt of gratitude for their commitment to place their lives on the line daily to defend our sovereignty, sovereign rights, and jurisdiction throughout the expanse of the WPS," he added.
The NTF-WPS also said the rotation and resupply (RoRe) mission delivered fresh provision supplies to the contingent manning the BRP Sierra Madre despite harassment and interference from the China Coast Guard (CCG) and Chinese Maritime Militia (CMM).
It added that Filipino supply boats, Unaizah May 1 and Unaizah May 2, and their PCG escorts, BRP Cabra (MRRV-4409) and BRP Sindangan (MRRV-4407), arrived at their intended destination.
The NTF-WPS said Philippine Navy (PN) vessels were also on standby during this time. It also maintained routine missions to Philippine outposts on various features in the WPS and will continue on a regular basis.
"These missions are part of the Philippine government's legitimate exercise of its administrative functions over the WPS, in line with the United Nations Convention on the Law of the Sea (UNCLOS), the 2016 Arbitral Award, and domestic laws," the NTF-WPS said.
Earlier, the AFP said the country has the right to repair and develop the BRP Sierra Madre if needed, reacting to Chinese claims that Filipino supply ships were carrying construction supplies to upgrade or repair the PN ship.
This reportedly prompted the CCG and Chinese maritime militia vessels to do maneuvers aimed at preventing the Philippines' resupply mission on August 5.
The AFP said the Filipino supply boats were only carrying water, food and other supplies during their RoRe mission.
"The Filipinos have a reason to celebrate today. Our RoRe mission was successfully conducted and the resupply boats and the PCG vessels escorting them are on their way back to their station in Palawan. Let us all pray for their safe voyage back," AFP spokesperson Col. Medel Aguilar said in a statement Tuesday night.
Aguilar said the AFP leadership commends its courageous and dedicated personnel aboard the two resupply boats who executed the operation with precision.
He added that AFP chief Gen. Romeo S. Brawner Jr. expressed his deep appreciation for the assistance provided by the PCG to secure the two resupply boats. (PNA)