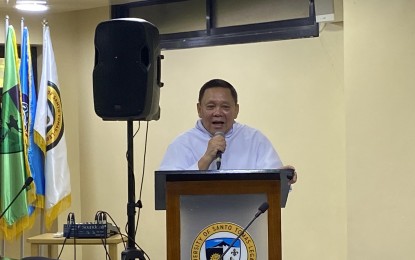 LEGAZPI CITY – The University of Santo Tomas (UST)-Legazpi welcomed on Tuesday the installation of its 9th rector and president who is training his sights on transformative education.
In a press conference at the university, newly installed Rev. Fr. Edwin Lao said he will anchor his thrust on the culture of excellence, innovation, continuous improvement, integrity, good character and right conduct.
"Transformative education can be carried out by those things that I mentioned. This (transformative education) is not a one-shot deal, it should be systematic and sustainable," Lao said.
He said as an educational institution, it is primordial to aim for academic excellence in their programs as they intend their graduates to be number one in their chosen fields.
This is why they do their best to deliver quality education, he added.
"One of the reasons why we move on the board of trustees to have the name change from Aquinas University to UST is we want to be at par with UST-Manila, to get the kind of education as UST-Manila as benchmark available here in the region, so that our Bicolano people will no longer go to Manila, would get the same kind of education in courses especially know for UST such as sciences and medical," Lao said.
As an indicator to see where UST is right now, Lao said the quality and kind of performance that the school has is the result of licensure examinations.
"This is one of the palpable indicators, so the past years when Fr. Ernesto Arceo, my predecessor, and I as the vice president for administration and finance, we had 7th place in College of Law in 2019, we had the 1st and the 3rd placers in the following year... we had 6th placer in medical technology and very recently, we had an 8th placer in the psychometrician licensure exams. I hope this could be an indicator that we are at a certain level," Lao said.
The rector asked everyone in the university to embrace and fall in love with opportunities for improvement.
"Dito sa eskwelahan na ito, hindi pwede ang pwede na (In this school, good enough is not enough)," he said.
Lao was born June 9, 1956 in Iloilo and finished a Bachelor of Arts in Philosophy at the Philippine Dominican Center of Institutional Studies, Santo Domingo Convent in Quezon City in 1978.
He pursued his theological studies at the University of Santo Tomas in Manila, obtaining a Bachelor of Sacred Theology in 1982.
In 1996, he obtained a Master's in Management degree from the Asian Institute of Management (AIM) which showcased his dedication to education's diverse facets.
In 2023, he finished his Doctor of Business Administration from UST-Legazpi.
UST-Legazpi is a Catholic higher educational institution located in Barangay Rawis. (PNA)