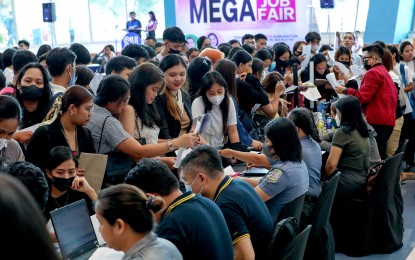 MANILA – The House of Representatives on Tuesday approved on the third and final reading a bill seeking to institutionalize and expand the National Employment Recovery Strategy (NERS) to a jobs creation plan to accelerate economic growth and development.
House Bill No. 8400, or the Trabaho para sa Pilipino Act, was approved with 235 affirmative votes.
The proposed measure establishes a Jobs Creation Plan (JCP), which shall align national investments and incentives to the solutions aimed at easing the challenges in the labor market.
The JCP shall serve as a national master plan on employment generation and recovery and shall promote programs on skills development and the enhancement to create decent employment and promote employability, competitiveness, wellness, and productivity.
HB 8400 also creates an inter-agency council (IAC) for jobs and investments, which will be co-chaired by the secretaries of the Department of Trade and Industry and the Department of Labor and Employment.
Also, the secretaries of the Department of Finance, Department of Budget and Management, and Department of Migrant Workers (DMW), as well as the director general of the National Economic and Development Authority, head of the Technical Education and Skills Development Authority (TESDA), a representative from employers' organizations, and a representative from labor groups, will sit as council members.
The inter-agency body is mandated to formulate a medium-term and long-term JCP that shall include objectives and targets, action components, success measures, and performance indicators.
The IAC shall harmonize the employment, livelihood and training projects and programs of the national government toward the preservation and creation of more jobs; collaborate with local government units (LGUs) in planning, devising, and implementing employment recovery and job generation programs within their localities; ensure that these programs are aligned with the JCP; and craft and provide guidelines for the institutionalization of the JCP in each government agency.
The bill requires the active participation of LGUs in formulating plans, programs or projects geared toward recovering jobs and generating more employment opportunities within their communities.
In a statement, Speaker Ferdinand Martin G. Romualdez said the expansion of NERS, which was created under Executive Order No. 140, into a comprehensive national jobs creation blueprint is the House of Representatives' answer to the problems of unemployment and underemployment.
"Through this plan, and with the cooperation of the concerned agencies and especially of LGUs throughout the country, we hope to address these twin issues related to employment," he said.
The Trabaho para sa Pilipino Act is among the priority measures of the Marcos administration.
A counterpart measure, Senate Bill No. 2035 or the Trabaho Para sa Bayan Act, was passed by the Senate last May 24. (PNA)