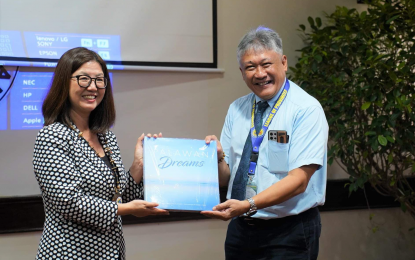 PUERTO PRINCESA, Palawan – Australian Ambassador to the Philippines Hae Kyong Yu on Tuesday paid a visit to Palawan Governor Victorino Dennis Socrates as part of efforts to strengthen bilateral relations amid challenges to regional security.
The visit took place as both nations focus on a multilateral approach to ensuring freedom of navigation in the West Philippine Sea.
"Ambassador Yu and Governor Socrates engaged in substantive discussions that traversed potential avenues of partnership between Palawan and Australia," according to a statement from the Governor's Office.
The officials' meeting at the Provincial Capitol Compound sought to "pave the way for promising joint initiatives", it noted.
The provincial government said the visit serves as a significant milestone in reinforcing the relationship between the Philippines and Australia, underscoring a dedicated effort to boost collaboration with local government units like Palawan.
Discussions between Socrates and Yu covered a range of topics including maritime security, tourism, energy, telecommunications, and responses to humanitarian needs.
Of particular significance was the conversation surrounding the ongoing "Exercise Alon," a joint initiative between Filipino and Australian forces in the Southern Palawan municipality of Rizal.
The exercise is designed to enhance the preparedness and operational readiness of the armed forces.
"Thanks to your province for the support in making these exercises possible in Palawan… Along with that, with you facing West Philippine Sea [concerns], hopefully, we'll see more and more engagement in Australia because as true friends and partners, it's really upon us working closely together to protect what is important, and that's our sovereignty," said Yu.
Socrates illuminated Palawan's socio-economic landscape and shared his vision for the province's progress.
He stressed his dedication to efficient governance, spotlighting tourism and agriculture as twin catalysts for economic advancement.
"I just want to make the system work. My primary concern here is the governance sector. But right now, the provincial government is very keen on tourism and agriculture [because] it is really our engine for growth," Socrates explained.
Furthermore, the governor showed a strong interest in potential initiatives and partnerships with Australia that could specifically uplift the most disadvantaged communities in Palawan.
Yu confirmed Australia's steadfast dedication to supporting Palawan's economic progress by recognizing the crucial importance of partnerships in fostering sustainable growth and development. (PNA)