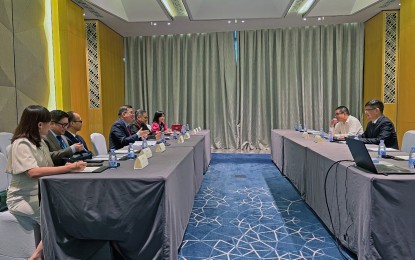 MANILA – A Dongguan-based bag maker is looking forward to the free trade agreement (FTA) between the Philippines and the European Union (EU) as it plans to export its Philippine-made bag to the European market.
In a statement on Tuesday, the Department of Trade and Industry (DTI) said DXHIC is expanding its presence in Southeast Asia as it will start operations in the Philippines by the third quarter of the year.
The DTI said DXHIC, a 25-year-old bag manufacturing company from Guangdong Province in China, is opening its local subsidiary Good Manufacturing PH Leathers Inc. that will supply bags to top international brands.
"The Chinese company intends to eventually export bags from their new facility in Subic to their clients including those from Europe," it said.
Last July, European Commission President Ursula von der Leyen visited Manila to announce the recommencement of the talks between the EU and the Philippines for an FTA.
DTI Secretary Alfredo Pascual said scoping discussions may start in September this year and conclude by 2023 to start formal FTA negotiations by 2024.
In a press briefing early this month, DTI Undersecretary Ceferino Rodolfo said the exports of garments, textile, footwear and bags to the EU market are expected to surge once the EU-Philippines FTA will be successfully concluded as this sector is one of the country's offensive interests in the negotiations.
Rodolfo said the Philippines will lobby for liberalizing the rules of origin for Philippine garments and wearables, which include footwear and bags, under the free trade deal with the EU.
Under the EU Generalized Scheme of Preferences Plus (GSP+), wearables from the Philippines entering the EU market are still slapped with 12 percent duty due to the rules of origin under the Multifiber Arrangement of the World Trade Organization.
The Chinese firm hopes that the successful conclusion of the EU-Philippines FTA will make its Philippine-made products more competitive in the EU market.
Meanwhile, the DTI said the company targets to employ 1,200 personnel this year.
"(T)he Chinese company forecasts hiring up to 5,000 employees in the Philippines in the future," it said. (PNA)