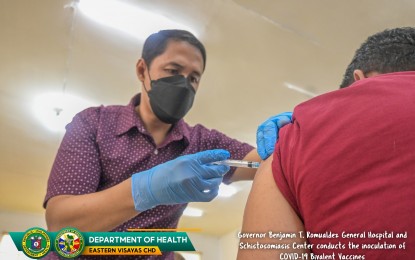 TACLOBAN CITY – Health facilities in Eastern Visayas (Region 8) were urged to "re-strategize" ongoing bivalent vaccination against Covid-19 to fully consume the allocated vaccines on or before the end of August.
The Department of Health (DOH) regional office reported that since they started the rollout of bivalent Pfizer Covid-19 vaccines in early July, only 45.2 percent of the allocation has been used for the target population.
Of the 11,760 doses of bivalent vaccines shipped to the region, only 6,446 doses have been used, and 5,314 doses are still stored in hospitals, rural health units and other facilities as of Aug. 22.
"Health facilities are advised to increase uptake and fully consume the allocated vaccines on or before the end of the month as a requisite before receiving additional doses of the bivalent vaccines," DOH Eastern Visayas regional director Exuperia Sabalberino said in a statement.
Facilities were encouraged to begin reallocating the vaccines among the health facilities within their inter-local health zones, or to the nearest health facilities with strong uptake and high demand, in coordination with local health offices.
The bivalent Pfizer Covid-19 vaccines have been made available as 1st, 2nd and 3rd booster doses for healthcare workers and the most vulnerable population aged 18-years-old and above.
This is administered at least four to six months after the inoculation with their latest Covid-19 vaccine dose.
Bivalent vaccines can provide protection against two virus strains: the original Covid-19 strain and Omicron subvariants. (PNA)