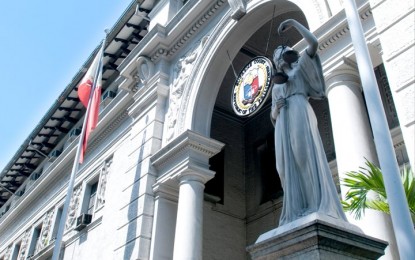 MANILA – The Supreme Court (SC) on Wednesday said it has disbarred a Bacolod City lawyer for forging a court order and giving it to his client to make it appear that a court had ruled in a case the lawyer supposedly filed.
The court in a statement said the tribunal, meeting en banc last Tuesday (Aug. 22), imposed the penalty of disbarment on Ariel Maglalang for fabricating a supposed court order dated 17 years ago in a civil case.
Maglalang made it appear that he filed a petition on behalf of his client, who had originally directed him to file a petition for nullity of marriage. The lawyer, however, made it appear he filed a petition for the presumptive death of his client's wife.
He also made it appear that the petition was heard and granted by Judge Ray Alan Drilon of Branch 41 of the Regional Trial Court in Bacolod City.
In February 2006, Maglalang was engaged as counsel by his client to initiate a petition for declaration of nullity of marriage in exchange for PHP100,000, with the lawyer promising he could get a favorable judgment in three months.
In November 2006, he eventually gave his client the forged order which declared his client's spouse presumptively dead "for all purposes."
Two years later, the court learned of the forged order and sought the assistance of the National Bureau of Investigation (NBI), which eventually led to the filing of the administrative case against Maglalang.
In determining Maglalang's liability, the Supreme Court applied the recently promulgated Code of Professional Responsibility and Accountability (CPRA), which took effect on May 29, 2023.
The CPRA explicitly provides that its provisions "shall be applied to all pending and future cases, except to the extent that its retroactive application would not be feasible or would work injustice, in which case the procedure under which the cases were filed shall govern."
The Court reiterated the presumption that in the absence of satisfactory explanation, one who is found in possession of a forged document and whoever used or uttered such is presumed to be the forger.
Applying this in the present case, the Court said it was convinced, based on the evidence, that Maglalang authored and used the forged order.
First, he was identified by his client as the source of the forged order. Second, this was duly corroborated by a witness who personally saw Maglalang give the forged order to his client. Third, this was also confirmed by the NBI after a confidential investigation. (PNA)