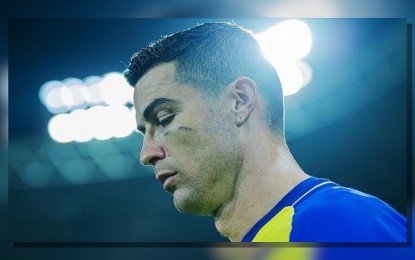 ISTANBUL – A visibly furious Cristiano Ronaldo yelled at the referee during a home match and pushed away a staff member of the opposing team who wanted to take a selfie with him.
Though his team, Al-Nassr of Saudi Arabia, qualified for the group stage of the Asian Champions League on Tuesday after a 4-2 victory against Emirati team Shabab Al-Ahli, Ronaldo was displeased with the performance of the referee during the match.
Al-Nassr's captain stormed off the field at the KSU Stadium in Riyadh, Saudi Arabia, after approaching the referee to scream at him: "Wake up, wake up!"
The five-time Ballon d'Or winner Cristiano Ronaldo joined Al-Nassr on Jan. 1, after becoming a free agent by cutting ties with Manchester United in November 2022.
With his sensational transfer, Ronaldo pioneered the transfer trend to Saudi football clubs.
Al-Nassr have signed on several other stars as well, including Sadio Mane, Seko Fofana, Marcelo Brozovic, Anderson Talisca, and Alex Telles. The side won the Arab Club Champions Cup for the first time this year. (Anadolu)