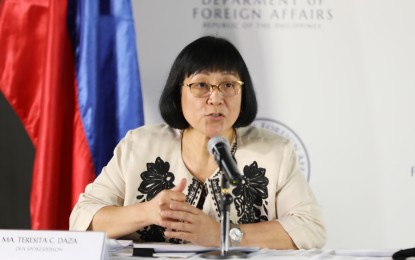 MANILA – The Philippine government did not lodge any objection against Japan's move to discharge treated radioactive water into the Pacific Ocean.
In a statement sent to reporters on Thursday, the Department of Foreign Affairs (DFA) said Manila recognizes the technical expertise of the International Atomic Energy Agency (IAEA) on the subject.
The IAEA published a comprehensive report on July 4 stating that Japan's plan to discharge the Advanced Liquid Processing System (ALPS) treated water into the sea is "consistent with relevant international safety standards" and that its impact on people and the environment is "negligible."
"The Philippines continues to look at this issue from a science- and fact-based perspective and its impact on the waters in the region. As a coastal and archipelagic State, the Philippines attaches utmost priority to the protection and preservation of the marine environment," DFA spokesperson Ma. Teresita Daza said. "The Philippines recognizes the International Atomic Energy Agency's technical expertise on this matter."
Barring bad weather, Japan will initiate on Aug. 24 the discharge of ALPS-treated water from the tsunami-hit Fukushima Daiichi Nuclear Power Plant.
Japanese Ambassador to the Philippines Kazuhiko Koshikawa earlier said Tokyo would manage the annual discharge volume of tritium so it would not exceed 22 trillion becquerel (Bq), which is equivalent to the target discharge management value for the Fukushima Daiichi before the accident in 2011.
"It is worth noting that other countries also discharge tritium into the sea in compliance with their own domestic laws and regulations; for instance, according to China Nuclear Energy Association website, China, discharging 112 trillion Bq from Yangjiang Nuclear Power Plant (NPP) in 2021," Koshikawa said. "The amount of tritium in the ALPS-treated water is far smaller than the amount of tritium discharged from many nuclear power plants and other facilities in other countries."
Japan will also take "all possible measures to ensure the safety of the discharge into the sea even after it begins, and will not discharge anything that could adversely affect the health or environment," he said.
Koshikawa said Tokyo has reached out to the international community and provided them with information in a transparent manner based on scientific evidence.
"Nevertheless, there are some who questioned the IAEA Comprehensive Report," he lamented. "I believe this is evidence of their disregard for science and such moves will only hamper global cooperation in utilizing nuclear energy and jeopardize international cooperation to ensure its safety."
China has earlier criticized Japan's plan, pointing to risks of "nuclear contamination to its neighboring countries."
On Aug. 22, the Chinese Foreign Ministry argued that there is a "fundamental difference between the nuclear-contaminated water that came into contact with the melted reactor cores in the Fukushima nuclear disaster and the water released by nuclear power plants in normal operation." (PNA)