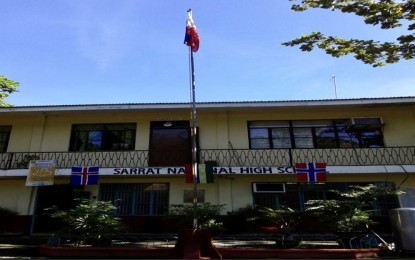 LAOAG CITY – Five math wizards from the Sarrat National High School in Sarrat, Ilocos Norte flew to Hong Kong, China on Thursday to compete in the Hong Kong International Mathematical Olympiad (HKIMO) slated Aug. 25 to 28.
They are Allen Iver Barroga, Brian Jansen Vallejo and Natalie Margaret Balisacan representing the secondary 1 division, Zyrene Angelica Dulluog for secondary 2, and Ma. Cassandra Reich Duque for the senior secondary division.
"The five onsite participants were gold awardees during the heat round of the HKIMO held last May, thereby qualifying them in the final round," Michael Malvar, senior lead coach of the five math wizards, told the Philippine News Agency on Thursday.
The Ilocos Norte team will be accompanied by Malvar and two other coaches -- Agnes Calilao and Jenifer Balisacan.
Two other students, Mar Lean Gold for secondary 3 and Jushiem Barroga for senior secondary level, will also be participating online with the guidance of their coaches, Isabelle Malabo and Balisacan.
In a separate interview, Balisacan said the students are on top of their game and went through rigid training.
"We are so thankful for this opportunity to compete in the international mathematical olympiad. We are also grateful for the outpour of financial donations both from various public and private donors in support of the Ilocos Norte team who will be competing with thousands of mathletes in the HKIMO participated by more than 15 countries from Asia, Oceana and Europe," Balisacan said.
As the only school in Ilocos Norte with a special program for mathematics under the Department of Science and Technology, Sarrat National High School has produced champions in international events such as in the previous HKIMO where five of their students brought home five gold medals, one silver and one bronze medals.
Outstanding teachers
Meanwhile, the Ilocos Norte government's education office and the Energy Development Corporation launched on Thursday the search for 10 outstanding teachers in Ilocos Norte dubbed as Bannuar Awards, a service award for modern Ilocano heroes in the academe.
It aims to recognize and reward educators for their heroic deeds, exemplary works, innovative ideas, inventions, discoveries, superior accomplishments, commendable behavior, extraordinary acts or services in the public interest and other personal efforts contributing to efficiency, economy and improvement in government operations which lead to organizational productivity.
Dany Daquioag, chair of the board of assessors, said at a press conference that the Top 10 Bannuar awardees will each receive PHP30,000, a plaque of recognition and a gold medallion.
Deadline for the submission of nominees is until Sept. 8 while the awarding is set for Oct. 27, 2023. (PNA)