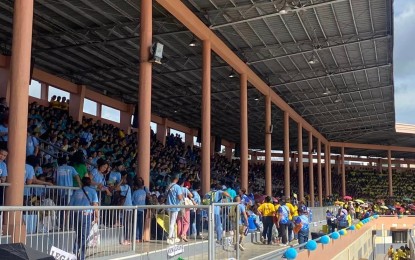 ILOILO CITY – The Department of Health and the provincial government acknowledged the roles of barangay health workers (BHWs) during the health pandemic and the conduct of supplemental immunization activity for measles-rubella and the oral polio vaccine (MR-OPV) in Iloilo province.
More or less 10,000 BHWs gathered for the Iloilo Provincial BHW Congress 2023 at the Iloilo Sports Complex on Thursday.
"As front-liners you have sacrificed your lives to ensure the safety of the community, said Governor Arthur Defensor Jr. in his virtual message.
Defensor added that, with their help, the province has achieved 90.73 percent coverage of the target population for the MR-OPV, with 20 municipalities hitting over 95 percent accomplishment.
The accomplishment translates to 146, 590 children vaccinated out of the 161 566 target in the province.
He hoped they remain committed to their work as there is more to do under the provincial government's development agenda.
Dr. Mary Pauline C. Gestosani representing Department of Health Western Visayas Center for Health Development (DOH WV CHD) Regional Director Adriano Suba-an, shared the sentiment of the governor of BHWs as partners in the Covid-19 response and immunization activity.
She said the roles of BHWs have been highlighted during the crafting of the Universal Health Care Law, where they will serve as health promotion officers in their barangay.
"Together with the Provincial Health Office, the DOH will continue to capacitate BHWs to become better health promotion officers. They will be the source of correct information and provide basic health services because they are the first contact of people in barangay," she added.
She hoped that local government units could craft policies that would also provide them benefits.
BHW Partylist Rep. Angelica Natasha A. Co, in her message, announced the Magna Carta for BHWs is now in the hands of the Senate.
The Magna Carta, she said, contains benefits and incentives for barangay health workers, including a monthly honorarium of not less than PHP3,000. (PNA)