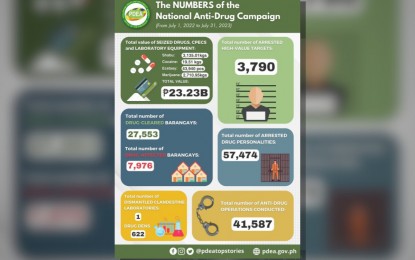 MANILA – More than 27,000 villages across the country have been cleared of illegal drugs since the start of the administration of President Ferdinand R. Marcos Jr.
The Philippine Drug Enforcement Agency (PDEA) said on Friday that 27,553 out of 42,045 barangays (villages) have been declared "drug-cleared" as of July 31 while 7,975 are still being cleared by authorities.
These barangays have reached drug-cleared status after the issuance of a certification by members of the oversight committee on the barangay drug-clearing program
The latest PDEA data also showed 57,474 were arrested during 41,587 anti-illegal drugs operations from July 1, 2022 to July 31 this year.
Authorities likewise dismantled 622 drug dens and one clandestine shabu laboratory during the same period.
PDEA also said authorities have seized a total of PHP23.23 billion worth of illegal drugs across the country in the same period. (PNA)