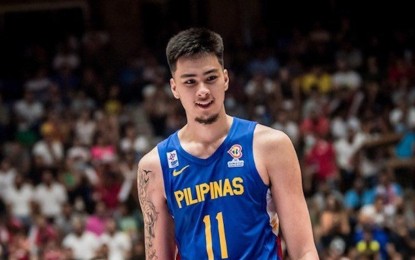 MANILA – The FIBA Basketball World Cup 2023 will introduce the Wanda Rising Star Award to showcase and reward the most promising young player of the tournament and identify the future stars of the game.
Exciting young talents like Australia's Josh Giddey, USA's Paolo Banchero, or Spain's duo of Usman Garuba and Juan Núñez are some players who could be considered contenders for the award.
The Philippines' seven-foot-two Kai Sotto, who played for the Orlando Magic in the National Basketball Association Las Vegas Summer League in July, is on the unofficial list of favorites.
The eventual winner of the Rising Star Award will be determined based on performances throughout the World Cup and the impact on their team.
The criteria for the selection are that the players be 21 years old or younger (born in 2002 or after) and have a minimum of four games played at the World Cup.
The official shortlist will eventually be announced on Sept. 4 before the final phase.
Australia will be a tough team to beat at the World Cup and is among the teams considered to be a contender to reach the podium.
The 6-8 Giddey's playmaking ability and all-around game are the reasons why the 20-year-old will be a leader of the Boomers for years to come.
The 6-10 Banchero was the NBA Rookie of the Year for the Orlando Magic after averaging 20.0 points, 6.9 rebounds and 3.7 assists per game. The 20-year-old is making his national team debut.
Dominican Republic guard Jean Montero, also 20, has dominated the youth level and averaged at least 25.8 points per game at three different events in 2018 and 2019.
Zach Edey of Canada, standing 7-3, adds to the team's expectations of a first-ever podium finish at the World Cup.
The reigning 2023 Naismith College Player of the Year has only played two games at the senior national team level in the Americas Qualifiers, but he will look to have a bigger impact as a big post presence to complement the stars.
The 21-year-old Sotto is already a fan favorite and has been seen by home fans catching alley-oops from Jordan Clarkson or being a defensive anchor and swatting shots away.
Núñez, 19, was called upon for defending champion Spain's 12-man roster as a replacement for Ricky Rubio.
The 6-3 guard enters the tournament with some confidence and something to build from after posting 8 points and 5 assists in a tune-up game against USA.
Others on the list are Italy's 6-4 guard Matteo Spagnolo, 20; Spain's 6-8 center Garuba, 20; Serbia's 6-10 forward Nikola Jokic, 20; and Finland, 6-4 guard Miro Little, also 19. (PNA/FIBA)