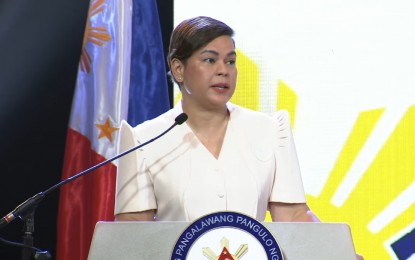 MANILA – Department of Education Secretary and Vice President Sara Duterte on Friday hit back at House Deputy Minority leader and ACT Teachers party-list Rep. France Castro over her latest allegations that the Office of the Vice President (OVP) allegedly used PHP125 million in confidential funds in the second half of 2022 without congressional authorization.
"The seething disdain overwhelming France Castro these days is hardly concealed even by her capacity to string serious allegations against the Office of the Vice President over the 2022 Confidential Fund," Duterte said in a statement.
"But today, Ms. Castro doesn't deserve an explanation because she did not come to class prepared - like a good teacher," she added.
Duterte added that she hopes "Castro finds gratification and great joy over the thought of my impeachment from office."
In a news release, Castro cited the OVP 2022 annual audit report released by the Commission on Audit (COA) saying that there was an additional allotment for Confidential Expense during the second semester of CY 2022 amounting to PHP125 million, which is also reflected under the "Supporting Information to the Statement of Financial Performance" found on page 20 of the same document.
"The Vice President needs to explain how she could incur obligations amounting to PHP125 million in confidential expenses in the last six months of 2022 despite the fact that her office has no Congressional authorization to do so for that year," Castro said.
The party-list lawmaker asked that the OVP provide a detailed public accounting of how the said amount was spent, adding that there is a possibility that the Vice President may face dismissal from office as well as disqualification from public office for "misuse of public funds."
The Vice President said she welcomes the probe that Castro recommended for the COA.
"All she did was wildly and masterfully arrange some accusations against me and the OVP, which will all be answered once the probe is done and during the budget hearing," Duterte said. (PNA)