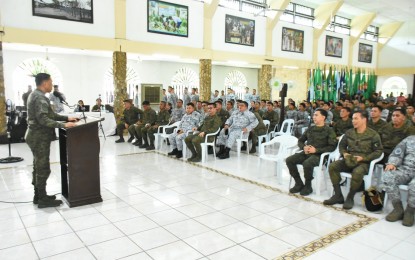 CEBU CITY – Armed Forces of the Philippines chief of staff Gen. Romeo Brawner Jr.'s visit to the Visayas Command (Viscom) last weekend has inspired troops to carry on government's efforts to clear more villages from the New People's Army (NPA) infestation.
Viscom chief Lt. Gen. Benedict Arevalo said Brawner's visit on Saturday raised the morale of the Army in intensifying internal security operations, as he lauded the soldiers for their efforts that resulted in the neutralization of 204 NPAs and recovery of 168 firearms.
Viscom's incessant community support program (CSP) was also commended as it resulted in the clearing of 418 villages from NPA infestation and the cooptation and reorientation of 113 former NPA-affiliated mass organizations or sectoral front groups.
Arevalo said the whole-of-nation approach has a huge impact in the campaign against insurgency in the central Philippines.
"We could not have done this without the support of the local government units, our partner agencies in the local Task Force ELCAC (ending local communist armed conflict), other stakeholders, and most especially our people. It is their strong will that motivates your Team Viscom to strive for the attainment of a just and lasting peace in the Visayas region," Arevalo said in a statement.
He vowed to sustain the gains in the fight against the NPAs, vowing "no letup in the operation to prevent the terrorist group from regaining their foothold in the region."
The efforts to ensure long-lasting peace and development in the Visayas will be sustained through the cooperation of the various government agencies, he said.
With their motivation to end the local communist armed conflict in the Visayas region, Arevalo said they would not stop urging the few remaining members of the NPA to lay down their arms and return to the fold of the law while the government has prepared programs for them to become useful members of the community. (PNA)