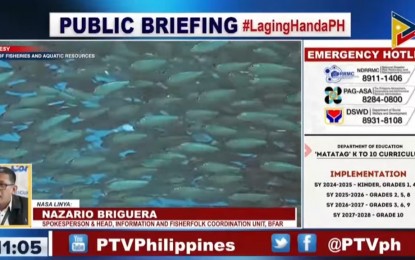 MANILA – The Bureau of Fisheries and Aquatic Resources (BFAR) on Tuesday reported that municipalities and cities covering coastal waters are now more aware of how to take care of bodies of water under their jurisdictions.
Nazario Briguera, BFAR spokesperson and head of its information and fisherfolk coordination unit, said the awareness of local government units (LGUs) particularly those surrounded by coastal areas can be attributed to the "Malinis at Masaganang Karagatan Program" where they search for the Outstanding Coastal Community all over the country.
Briguera said the program is now in its seventh year, wherein they recognized the efforts of municipalities or cities in protecting the coastal waters and communities.
"It's been going on for seven years now, and I want to share that because of the program, many local government units (LGUs) now are more aware preserving of the ocean," he said at the Laging Handa briefing.
"They (LGUs) are very much aware of taking care of the ocean and it's like an incentive program so that we can encourage them to really take care of the environment and also based on the testimonials we get when we have field validation," he added.
Briguera said the sustainable fisheries management in the local communities has resulted in the improvement of their livelihood.
"Because their oceans are better managed, their catch increases and our fishermen have a secure source of employment," he said.
Briguera further said that for the best LGU to be chosen, it must meet several criteria.
"There should be no illegal fishing under their jurisdiction; there is a close fishing season, maintaining green ocean; there is a mangrove rehabilitation program and they are protecting a marine area," he said.
He added the contest is open to all LGUs nationwide.
"Actually, it starts at the regional level, so a regional winner will be chosen. So when all the regions submit (entries), it seems that what we are looking at to compete at the national level is around 15, but not all of them are able to comply, sometimes 10 are actually able to submit," Briguera said.
"And from that number, the only national finalist that will be chosen is five. So, five municipalities or cities will compete and in the end, only three will be chosen. There is your choice of the grand winner and then, the second runner-up will be chosen and third runner-up," he said.
Briguera said the grand winner, second runner up and third runner up would receive PHP30 million, PHP18 million and PHP10 million worth of fisheries livelihood projects, respectively.
Meanwhile, Briguera encouraged Filipinos, including those in non-coastal communities, to do their share in preserving the country's oceans.
"We must contribute to have a more effective management of our ocean. We need to manage our waste here in the cities properly so that it does not reach the waters that will eventually flow into our oceans," he said.
"So, we continue to ask for support that we can together promote the existence of clean and abundant oceans because in the end, the entire Philippines will benefit from this when it comes to what we call sustainable fisheries production," Briguera added. (PNA)