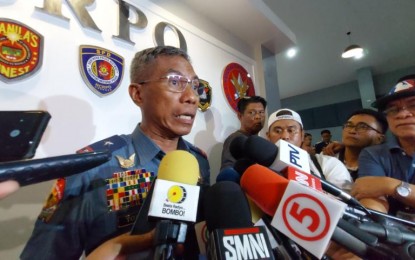 MANILA – The Quezon City Police District (QCPD) on Tuesday announced the filing of an alarm and scandal complaint against Wilfredo Gonzales, the dismissed police officer who figured in a confrontation with a bicycle rider in Quezon City on Aug. 8.
QCPD chief Brig. Gen. Nicholas Torre III said the case is a public crime which can be filed by police officers and can be strengthened through other pieces of evidence or testimonies from witnesses.
"We only filed the case at 9:50 a.m. today, Now, you ask why alarm and scandal? During that Aug. 8 incident, there was no video yet. The parties said they already settled things at the barangay. There were no videos. What would then be our basis to file a case against them? There was no affidavit signed. They went on their separate ways. Our station commander, in his wisdom, said the gun must be left in their custody. So that whatever happens outside, there would be no guns involved," Torre said in an ambush interview at the National Capital Region Police Office (NCRPO) headquarters in Camp Bagong Diwa, Taguig City.
Torre said they have presented the gun as physical evidence before prosecutors.
Based on Republic Act 11926 or An Act Penalizing Willful and Indiscriminate Discharge of Firearms, the penalty for alarm and scandal is a fine not exceeding PHP40,000 and six years imprisonment.
Torre also dismissed allegations that the QCPD extended special treatment to Gonzales during his supposed settlement with the cyclist, saying his personnel "acted professionally."
"This is my answer on my personal part because the special treatment is alluded to me. The guy is a retired or dismissed policeman. Don't quote me as arrogant but he is way below my salary grade. What can he offer me so that I can put my service at stake? I never met him. I don't know him. We have met for less than 30 minutes in my whole life and now I will bet my service and give him special treatment in front of the media. I don't think that's a logical explanation," said Torre.
The QCPD chief also called on those with knowledge of the incident to come forward so they can bolster the case against Gonzales.
He also urged the uploader of the viral video to testify on the authenticity of the video, which he said can also be used as evidence in the complaint.
PNP chief Gen. Benjamin Acorda Jr., meanwhile, agreed to the filing of a case against Gonzales, saying the police are duty bound to investigate crimes and file appropriate charges.
Citing PNP records, Acorda said Gonzales was dismissed from the service for grave threats in June 2018 while his permits to own and carry firearms outside of residence have already been revoked.
"There are four firearms registered under his name. The three were surrendered in Camp Crame and the other one is now with the QCPD," Acorda said.
Interior Secretary Benjamin Abalos Jr. said criminal cases should be filed against Gonzales.
"For the sake of a peaceful and orderly society, we cannot allow a culture of impunity. We cannot allow bullies to just go around intimidating people with deadly weapons. There must be consequences here," he said in a separate statement.
Abalos, a lawyer, said that in certain circumstances, criminal cases may still be filed against an offender even if the victim refuses to make a complaint.
"Even if the victim won't testify, criminal cases can still be filed if another witness comes forward. For example, the person who took the viral video, or other bystanders during the incident, can establish that they were at the scene, and identify the perpetrator and the acts that he committed. At the very least, a case for alarm and scandal could be filed," he added.
Department of Justice (DOJ) Secretary Jesus Crispin Remulla similarly said Gonzales may be held liable for his acts, with the government "an interested party" on the case.
Remulla said they will wait for Quezon City Mayor Joy Belmonte to initiate something as he learned the local government is "very, very interested" to pursue the case.
"Pwede ang alarm and scandal kahit di pumutok ang baril. Kinasa, kahit 'di magreklamo 'yung siklista (It can be alarm and scandal even if the gun did not go off and the cyclist did not complain. The gun was drawn). People alarmed over the occurrence can actually file a case as long as the evidence that they will use is properly identified and authenticated," Remulla said in a media briefing.
The DOJ had issued a certification that Gonzales is not or was never an employee of the department, contrary to rumors.
Abalos said the National Police Commission (Napolcom), which he chairs, will monitor the PNP's response to the incident.
"In case of any inaction by the PNP's handling officers, the PNP's Internal Affairs Service would investigate. The Napolcom may step in, if warranted. In any case, rest assured that the Napolcom will do its utmost to pursue the cause of justice," he added. (PNA)