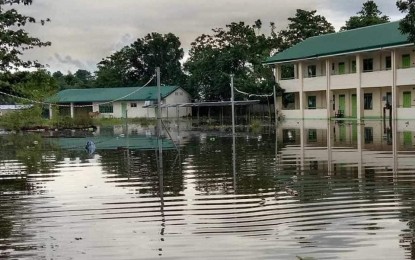 TUGUEGARAO CITY – Gov. Manuel Mamba ordered anew the suspension of classes in the province on Aug. 30 as many schools and low-lying areas remained flooded, mostly in northern Cagayan and in this city on Tuesday.
In his executive order, Mamba said he considered the "safety of the Cagayanos" under the "general welfare clause" amid the floods and rains that continued to affect the province due to Typhoon Goring.
In Sta. Teresita town, the Luga-Masi crossing was flooded while the Capatan overflow bridge in Tuguegarao City was closed as the Pinacanauan River overflowed, the provincial disaster risk reduction management office said in an advisory.
The Sta. Teresita National High School was also left with ripped roofs and damaged classrooms due to the strong winds and rains, while the Villa Gracia Elementary School in Buguey was also flooded, according to a social media post of the disaster risk reduction management office of the Department of Education-Schools Division Office in Cagayan.
Despite the class suspension, teachers and volunteers cleaned classrooms in Imurung National High School in Baggao, Calayan High School-Main, Cabayabasan Elementary School in Lal-lo town, Cambabangan Elementary School in Rizal town, and Andarayan Elementary School in Solana town, the post added.
At least 716 families or 2,278 people have remained in evacuation centers while 509 families or 1,692 people are staying with their relatives or friends.
Meanwhile, in Isabela province, Ilagan City Mayor Josemarie Diaz on Tuesday ordered the suspension of classes at all levels, both in private and public schools, as Typhoon Goring continued to bring heavy rains that resulted in floods in low-lying areas.
Invoking the general welfare clause, Diaz said in his Executive Order No. 23 that the class suspension was recommended by the city disaster risk reduction management council for the safety of students and other people.
The mayor also noted that the suspension was "in light of flooding in various areas in the City of Ilagan and due to torrential rains and the continuous swelling of the tributaries of the Cagayan, Pinacanauan, and Abuan Rivers."
"As a precautionary measure and in anticipation of any development that may arise due to the said weather disturbance, it is deemed expedient to implement the suspension of classes in the City of Ilagan to ensure the safety of Ilaguenos," he added in his order.
Classes were also suspended in Cauayan City and in the towns of San Pablo and Benito Soliven. (PNA)