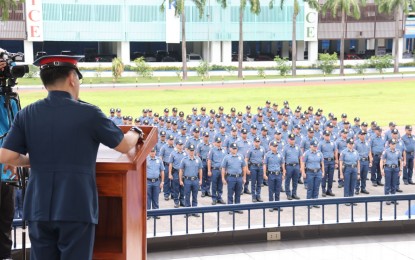 MANILA – The Police Security and Protection Group (PSPG) of the Philippine National Police (PNP) on Tuesday announced a comprehensive recall of its protective security personnel stationed throughout the country as part of preparations for the Oct. 30 Barangay and Sangguniang Kabataan Elections (BSKE).
Brig. Gen. Leo Francisco, acting PNP Director for Operations, led the presentation of the recalled personnel at the PNP Transformation Oval in Camp Crame, Quezon City.
Police regional offices across the nation will also conduct their recall activities which will be witnessed through online platforms.
"This recall serves as a reminder of our duty to the people and the nation. As you return to your units, let your actions reflect the ideals of a just and democratic society," PNP chief Gen. Benjamin Acorda said in a statement on Tuesday.
"Additionally, this recall serves as a proactive measure to prevent any undue influence, conflicts of interest, or perceptions of impropriety during the electoral process. Our priority is to uphold the principles of democracy and ensure that every citizen's voice is heard," he added.
Of a total of 920 protective security personnel stationed nationwide, 679 PSPG personnel are subject to recall.
Among these, 495 are responsible for safeguarding 285 government officials, while 425 are entrusted with the security of 309 private individuals.
Those recalled will undergo refresher and specialization courses while awaiting redeployment after the election period.
The initiative is in accordance with Comelec Resolution 10918, which outlines the rules and regulations on the ban on the bearing, carrying, or transporting of firearms or other deadly weapons, as well as the employment, availment, or engagement of the services of security personnel or bodyguards during the election period.
The election period for the BSKE started on Monday and runs until Nov. 29.
During this period, Comelec regulations mandate the suspension of activities involving the carrying of firearms or other deadly weapons and the employment of security personnel or bodyguards by incumbent public officials, whether elected or appointed, as well as private individuals.
To facilitate the application for the issuance of a Certificate of Authority for Security Detail (CA-SD), eligible individuals, including incumbent public officials and private citizens, are encouraged to submit their requests online through the Comelec website. The electronic filing system has been operational since June 5 and will remain open until Nov. 15.
As of Aug. 24, a total of 295 applications have been received for CA-SD, with 49 having already received approval.
Gun ban violators
Around 15 persons have so far been apprehended since the start of the gun ban for the 2023 BSKE on Monday.
Acorda said 15 firearms were also confiscated by police officers deployed in more than 600 checkpoints nationwide.
The establishment of checkpoints is pursuant to Comelec Resolution No. 10924 to effectively implement the ban on firearms and other deadly weapons during the 90-day election period.
The resolution prohibits the bearing, carrying, or transporting of firearms or other deadly weapons in public places, including any building, street, park, private vehicle, or public conveyance, or even if licensed to possess or carry the same, unless authorized by the Comelec.
Acorda, meanwhile, said a probe is underway on the killing of Alex Repato, reelectionist captain of Barangay San Jose in Libon, Albay, who was shot dead by still unidentified assailants in his residence at around 5 p.m. Monday, just hours after he filed his candidacy.
"It is unfortunate in Albay we have one case of shooting but we already have a person of interest there and tinututukan ng ating kapulisan. What happened in Albay is election-related but I want to get first yung talagang official result of the investigation," Acorda said on the sidelines of the National Capital Region Police Office's (NCRPO) commemoration of its 122nd Police Service Anniversary at Camp Bagong Diwa, Bicutan, Taguig City.
He said they are now looking into the possibility of putting Libon town under the red category of election areas of concern following incidents of violence.
Acorda, however, said they are coordinating with the military, the Philippine Coast Guard and the Comelec regarding this matter. (PNA)