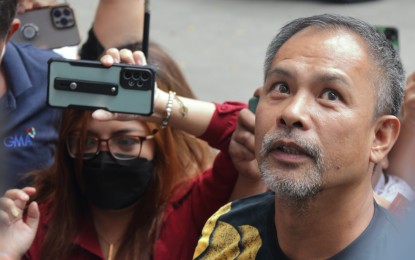 MANILA – The National Bureau of Investigation (NBI) on Tuesday filed new murder charges against former Bureau of Corrections (BuCor) chief Gerald Bantag, two former jail officials and four inmates for the death of a person deprived of liberty (PDL) who was supposedly critical of the embattled officials.
Bantag, his former deputy Ricardo Zulueta and ex-BuCor official Victor Erick Pascua, and PDL Rolando Villaver, Mark Angelo Lampera, Charlie Dacuyan, and Wendell Sualog were charged by the NBI for the death of another New Bilibid Prison (NBP) inmate, Hegel Samson.
Samson supposedly earned Bantag's ire for social media posts made under the pseudonym "Leon Bilibid" about illegal goings-on in the penitentiary.
Villaver "claimed that Bantag asked him about a certain individual using the profile name" and who exposed alleged smuggling of contraband items, including alcohol, cigarettes, illegal drugs, mobile phones and guns.
Samson was later identified as being under Villaver, who was the "mayor" of Dorm 6A of NBP.
Villaver claimed he was ordered by Bantag, Zulueta and Pascua "to carry out the task discreetly, leaving no trace."
Samson died at the NBP Hospital on Nov. 7, 2020, with heart attack hastened by asphyxia as cause of death.
Villaver and the other inmates subsequently owned up to the killing, which they said they committed by placing a plastic bag around the victim's head.
Department of Justice Secretary Jesus Crispin Remulla said in a media briefing that the NBI was directed to probe the death last year.
"Pina-imbestigahan namin ito (We ordered an investigation) as early as last year. We asked the NBI to form a team," Remulla said.
Remulla said Bantag, who is also wanted for the slay of broadcaster Percival "Percy Lapid" Mabasa, is suspected to be getting help from fellow Philippine National Police Academy alumni.
"These are the ties that bind people but we are confident that we are on the right track regarding the capture of Bantag and he will be captured sooner than later," he said. (PNA)