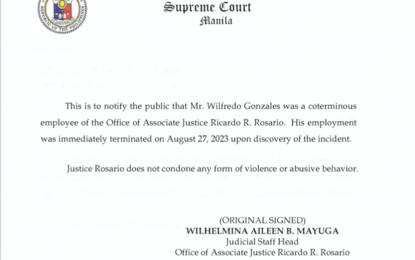 MANILA – The dismissed policeman who was caught on camera pulling out a pistol during a traffic confrontation with a cyclist in Quezon City earlier this month has been let go from his job at the Supreme Court.
In a statement sent to newsmen on Wednesday, the office of Supreme Court Associate Justice Ricardo Rosario confirmed that Wilfredo Gonzales was an employee.
Gonzales' employment was terminated last Aug. 27 after the incident was discovered, the statement said.
"This is to notify the public that Mr. WIlfredo Gonzales was a coterminous employee of the Office of Associate Justice Ricard R. Rosario. His employment was immediately terminated on August 27, 2023 upon discovery of the incident. Justice Rosario does not condone any form of violence or abusive behavior," the statement by Rosario's chief of staff Wilhelmina Aileen B. Mayuga said.
The statement did not indicate the nature of Gonzales' employment with the high tribunal.
On Tuesday, the Quezon City Police District (QCPD) announced the filing of an alarm and scandal complaint against Gonzales.
QCPD chief Brig. Gen. Nicholas Torre III, who resigned Wednesday after receiving flaks for facilitating a press conference for the ex-cop, said the case is a public crime which can be filed by police officers and can be strengthened through other pieces of evidence or testimonies from witnesses.
Philippine National Police chief Gen. Benjamin Acorda Jr. on Wednesday said he would meet with Department of the Interior and Local Government (DILG) Secretary Benjamin Abalos Jr. to discuss Torre's resignation.
Torre resigned to give way to the investigation into the road rage incident involving Gonzales and a cyclist, as seen on a video released last Aug. 8. (PNA)