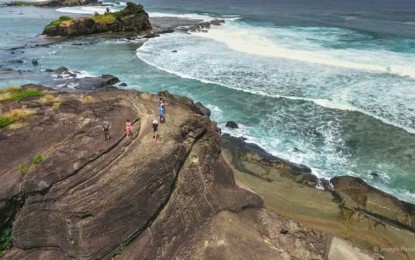 TACLOBAN CITY – The island town of Biri in Northern Samar is preparing to welcome 120 guests aboard Australian cruise ship Coral Adventurer, who will explore the destinations in November.
Provincial tourism officers, tour operators and port agents inspected the island earlier this week to evaluate the logistical requirements and finalize the activities and tour itinerary to ensure a well-planned and enjoyable experience for visitors, said Northern Samar provincial tourism officer Maria Josette Doctor Thursday.
The team particularly inspected the docking facilities available and various sites that the visitors may explore, Doctor said.
"By assessing the docking facilities and selecting the sites to be visited, the team ensured that the necessary arrangements are in place to accommodate the cruise ship and provide a seamless and memorable shore excursion," she said.
The upcoming cruise call in Biri Island, she added, not only marks a milestone for the destination but also presents an opportunity to showcase the natural beauty and attractions of the island to international tourists.
Northern Samar was happy with this November 1-9 exploration as this would further boost the province's tourism.
"It is an exciting development for the local tourism industry, as it highlights Biri's potential as a sought-after cruise destination in Northern Samar," she told the Philippine News Agency (PNA).
Biri town is one of the island municipalities in Eastern Visayas facing San Bernardino Strait and the Pacific Ocean.
It is famous for its rock formation, which, according to the National Institute of Geological Sciences Research of the University of the Philippines, dates back some 24 million years and is pushed up by tectonic movements generated by earthquakes.
The town has seven rock formations - Magasang, Bel-at, Magsapad, Caranas, Macadlaw, Puhunan and Pinanahawan, but only six are easily accessible.
Biri is one of the additional sites for international cruises in Eastern Visayas, and the second town in Northern Samar included in the port call of expedition cruises. The first town visited by cruise ship is Capul Island in 2018.
Coral Adventurer, the last expedition cruise ship to visit the region this year, will be staying in Leyte and Samar areas for nine days.
The cruise ship will also make a stop in Capul Island in Northern Samar; Tacloban City, Babatngon town center, Kalanggaman Island, and Cuatro Islas in Leyte; and Padre Burgos in Southern Leyte. (PNA)