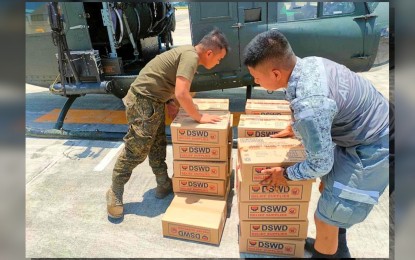 MANILA – The Philippine Air Force (PAF) in Central Visayas has committed to help the Department of Social Welfare and Development (DSWD) in transporting food packs to flood-hit areas in Negros Occidental, a DSWD ranking official said Thursday.
DSWD Assistant Secretary Marlong Alagao, chief of the Disaster Response and Management Group (DRMG), said a total of 20,000 family food packs (FFPs) from the Visayas Disaster Resource Center in Cebu City are scheduled to be transported in tranches to the Bacolod-Silay International Airport using PAF choppers from the Mactan Air Base.
"A request has been made to the Visayas Air Command for a fixed wing, specifically a C-130 cargo plane, for faster airlifting of the prepositioned FFPs at the Mactan Air Base," Asec Alagao said, adding that they are still awaiting the go signal from the PAF.
Transporting the 20,000 FFPs from Mactan Air Base to the Bacolod-Silay International Airport in Negros Occidental will take three days to complete.
Once transporting is completed, all food packs will be delivered to the DSWD regional warehouse in Bacolod City for immediate distribution to the flood-affected areas, including the cities of Bago and La Carlota, and the municipalities of Pontevedra, Pulupandan, San Enrique and Valladolid. (PNA)