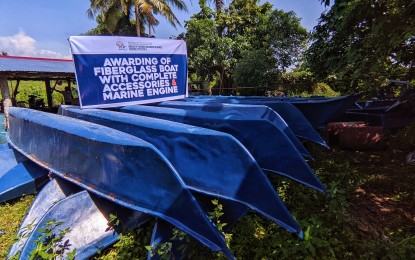 LEGAZPI CITY – The Bureau of Fisheries and Aquatic Resources-5 (Bicol) will distribute next month 43 fiberglass reinforced plastic (FRP) boats to more or less 200 fisherfolk beneficiaries in the six provinces of the region.
In an interview on Thursday, Rowena Briones, BFAR-5 information officer, said the 22-footer FRP boats with complete accessories and a 7.5 horsepower (HP) marine engine have a total cost of almost PHP4 million.
"We have 54 FRP boats as regular targets from the regular funds of BFAR. Eleven of them were already awarded to Oas town in Albay, and Minalabac town in Camarines Sur. The remaining 43 will be distributed this coming September," Briones said.
The 43 FRP boats will be distributed to Albay, five; Camarines Sur, seven; Camarines Norte, eight; Catanduanes, seven; Sorsogon, nine, and Masbate, seven.
She said the more or less 200 fishermen beneficiaries are members of 11 fisherfolk associations in the region.
Briones said the FRP boats are part of the agency's broader strategy to uplift the fishing community while ensuring the responsible utilization of marine resources.
"The FRP boats with complete accessories and a 7.5 HP marine engine are expected to improve the efficiency of fishing operations, reduce travel time, and enhance the overall productivity of the fisherfolk in the region," she said.
She said the FRP boats are also part of President Ferdinand R. Marcos Jr.'s directive for a 10-percent increase in fish production in the country.
Briones added that aside from the FRP boats, training programs on sustainable fishing practices, marine conservation and proper boat maintenance are also provided to the fisherfolk.
Recently, the Office of Sen. Juan Edgardo "Sonny" Angara through BFAR-Bicol awarded at least 15 units of 30-footer FRP boats, with complete accessories and 16 HP marine engines to fisherfolk in Paracale, Camarines Norte. (PNA)