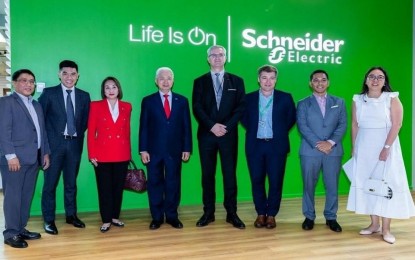 MANILA – The Department of Trade and Industry (DTI) on Thursday said French energy management and automation firm Schneider Electric will be scaling up its logistics hub in the Philippines.
In a statement, the DTI said Schneider Electric's top management has green lighted its expansion project in the country worth about at 1.4 million euros, or around PHP86.3 million.
The DTI said this expansion plan is an offshoot of Trade Secretary Alfredo Pascual's three-week investment roadshow in Europe last June, where he met the company's high-level officials on the sidelines of the 10th Philippines-France Joint Economic Committee Meeting in Paris on June 19.
"Schneider Electric, a global leader in energy management and automation, is looking to scale up its logistics hub in Cavite, reaffirming its strong confidence and continued expansion in logistics services, manufacturing, and high value services in the Philippines," it said.
Part of the expansion plan of Schneider Electric is converting 50 percent of inter-site trucks to electric vehicles and 20 percent of last mile utilize electric vehicle (EV) trucks as part of its Net-Zero Roadmap 2030.
"Schneider Electric's business is constantly evolving to ensure growth and increase resilience. An integral part of our growth strategy includes continued strengthening of the organization's global services that is based in the Philippines. This expansion underpins the company's goal of further boosting our global presence and capabilities to support advancement across different markets around the globe," APC by Schneider logistics director Ejie Tauto-An said.
APC Philippines is a flagship brand of Schneider Electric here that provides clean battery back-up power, surge protection and information technology (IT) physical infrastructure inside and outside the traditional IT environment.
"On top of its manufacturing activities, Schneider Electric also shared that it has expanded its Analytics for Schneider Electric Global Hub in Taguig City, which requires higher value services and AI (artificial intelligence)-assisted platforms," DTI added.
The Philippines is one of the four global hubs of the company, which operations provide technical, analytics, finance planning and accounting and sales support to 154 countries and hosts 23 languages.
It employs 80 data analytics in the country.
Schneider Electric is currently operating in the Philippines for the past 26 years, employing 3,375 Filipinos. Its operations here cater to nine countries with an annual output value of 1 billion euros. (PNA)