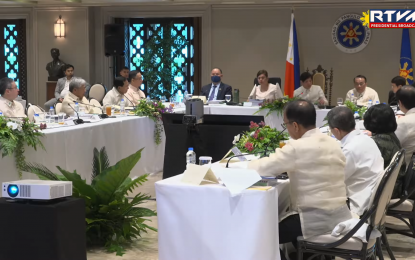 MANILA – The Marcos administration is focused on carrying out counter-insurgency initiatives aimed at pursuing "permanent peace and sustainable development" in areas cleared of insurgency, National Security Adviser Eduardo Año said on Thursday.
In a press briefing at Malacañan Palace's Premier Guest House, Año said the government's peace efforts are now bearing fruit, citing the implementation of development projects and delivery of services to different villages nationwide that are now considered insurgency-free.
"Kahit wala na ang mga armed group, gusto natin tuluy-tuloy (Even if there are no longer armed groups, we want [the implementation of development programs] to be continuous) because we want to spur economic development in those areas and provide livelihood programs to the citizens of these barangays that have been neglected for many, many years," Año said.
"Meaning to say, we are not just uplifting the lives of these people in the countryside, but rather building a permanent peace and sustainable development in these areas," he added.
'Whole-of-nation, whole-of-government' approach'
Año said the Marcos administration's goal is to build resilient communities all around the country and make sure that the Communist Party of the Philippines' armed wing, the New People's Army, could no longer recruit new members.
He said undertaking a "whole-of-nation and whole-of-government" approach is crucial in realizing the government's bid to end insurgency.
This, as he stressed that the "missing component" in the peace initiatives is the convergence of all government agencies, stakeholders and local government units to bring development and solve the root causes of insurgency in far-flung areas.
"It's not just a military or police problem. But it is a whole-of-nation and whole-of-government approach," he said. "What we can see in the term of President Ferdinand R. Marcos Jr., finally matutuldukan, matatapos natin itong local armed communist conflict and from there, puro development ang ating itataguyod, sisiguraduhin natin ang (we will end this local armed communist conflict and from there we will promote development and ensure the) delivery of services."
Asked if the government is targeting "zero" insurgency before the term of President Marcos ends, Año said: "While we may not be able to attain this zero-insurgent, at least they will be reduced to an irrelevant number that will not already cause concern for peace and order. They will be isolated and just become bandits because of lost ideology and non-support from the people."
National Task Force to End Local Communist Armed Conflict (NTF-ELCAC) executive director Undersecretary Ernesto Torres noted that a total of 69 guerrilla fronts have already been dismantled in the past four years.
Torres said there are only 20 remaining guerrilla fronts, with one of them still "active" in Northern Samar, and the 19 others are considered "weakened."
Six of the weakened guerrilla fronts are from Luzon, seven in the Visayas, and the remaining six in Mindanao.
Given the latest developments, Año said the government is eyeing to reorient the armed forces' on "external threats."
"Because right now, we have so many geopolitical issues and challenges to raise. So, we need the armed forces to now focus their eyes on external threats," he said.
NTF-ELCAC execom meeting
Prior to the holding of the press conference, Marcos presided over the 2nd NTF-ELCAC Executive Committee Meeting at the Heroes Hall of Malacañan Palace.
Marcos also led the oath-taking ceremony of the appointed Cabinet Officers for Regional Development and Security (CORDS).
Torres said five agenda items were tackled during the NTF-ELCAC executive committee meeting, including the CORDS' designation to regions to harmonize the functions and contributions of the Regional Development Council and the Regional Peace and Order Council.
He noted that during the meeting, the designation of TESDA director general Secretary Suharto Mangudadatu as CORDS in Metro Manila has been approved.
Mangudadatu replaced Migrant Workers Secretary Susan Ople who passed away on Aug. 22.
Torres said the NTF-ELCAC also discussed the inclusion of 11 other government agencies in the executive committee, bringing the total number of regular members to 32 from the current 21 member-agencies.
The new members that will be part of the committee include the Department of the Information and Communications Technology, Department of Labor and Employment, Department of Transportation, Department of Tourism, Department of Energy, Department of Trade and Industry, Department of Human Settlements and Urban Development, Department of Foreign Affairs, Department of Environment and Natural Resources, Department of Health and the Department of Migrant Workers.
Torres said there was also a discussion on the NTF-ELCAC membership of two representatives from the private sector.
He noted that the executive committee has agreed to include the Catholic Bishops' Conference of the Philippines (CBCP) as an NTF-ELCAC member, representing the religious sector.
"These positions were never filled up since the establishment of the NTF-ELCAC… We need to review how we do things and we find it necessary that at this point in our campaign, it is necessary that we have two private representatives as member-agencies," Torres said.
"Aside from the CBCP membership, we are working on a business sector representative to fill up the other slot for private representative in the NTF organization," he added.
Torres said the meeting also focused on the inclusion of some departments, bureaus, agencies in 12 different clusters of the NTF-ELCAC, as well as the evolution of the half-way houses for the former rebels into unity, peace and development centers. (PNA)